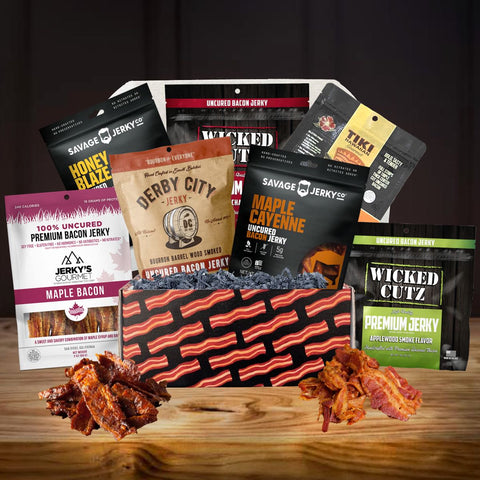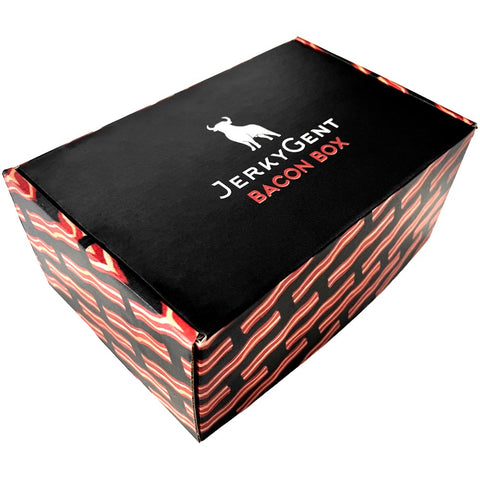 JerkyGent
Bacon Box - Bacon Jerky Gift Box
The Ultimate Bacon Jerky Gift Box
Yes, you heard that correctly... BACON JERKY. Packed full of sweet and savory bacon goodness to satisfy any bacon lover's belly. Salty, smoky, crunchy, and sweet. Including seven mouthwatering bacon flavors that will make you scream, "PORK YEAH!"
From maple bacon jerky to sriracha bacon jerky, the JerkyGent Bacon Jerky Gift Basket highlights only the best bacon jerky on the market:
Maple Bacon Jerky

Applewood Smoked Bacon Jerky

Honey Blaze Bacon Jerky

Hawaiian BBQ Bacon Jerky

Bourbon Smoked Bacon Jerky

Maple Cayenne Bacon Jerky

Sriracha Bacon Jerky 
Free shipping and gift note included at checkout!
Nutritional information
Ingredients:
Package size:
More Good Than Bad!
Overall I was happy with my subscription, however, there were a couple packs that I could not eat due to the taste and dryness of the product.
Dad loved it!
It was fun getting the delivery notification and then a few days later my dad would call and tell me which were his favorites for that month.
My Go To Gift
This gift is on repeat for my husband. The last batch had one that was basically some bacon in a bag. He gave me a piece and it was SO good.
JerkyGent Beef Jerky Gift Box, Six-Months Prepaid
Delicious and Diverse! Jerky Gent…Outstanding small batch jerky
Run to get yourself or someone the experience of Jerky Gent! My husband loves Jerky and new experiences, while remaining loyal to some of his favorite brands. Jerky Gent is the only jerky I have purchased for him (a three month subscription) that he said he would enjoy continuing to receive!! He loves small subscriptions of foods, but NEVER has he said, " I'd really like to continue with my subscriptions. Usually after three months, he's ready to try something new…Not the case with Jerky Gent!!! Additionally, when I contacted the company with a special request, they were responsive, helpful, and extremely accommodating!! I am so gratefully to find a gift my husband loves and I feel is well worth the money!! Trust me, give Jerky agent a try, you will not be disappointed!!!