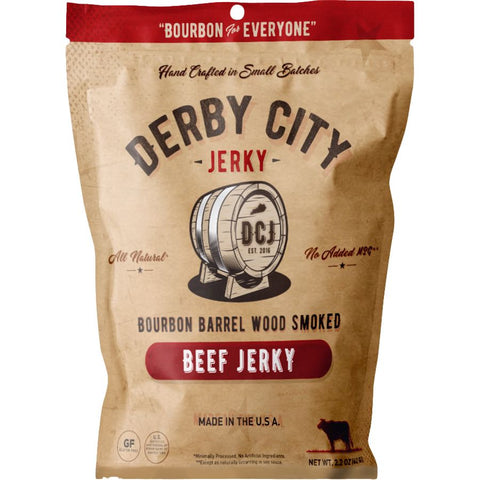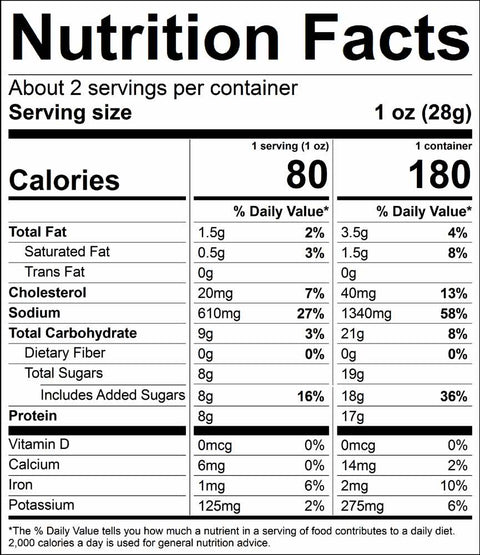 Derby City Jerky
Derby City Jerky Bourbon Barrel Wood Smoked Beef Jerky, 2.2-oz
This unique and delicious jerky is made with premium cuts of beef that are marinated in a special blend of spices and then slow smoked over aged Kentucky bourbon barrel staves. This process delivers a super tender and tasty jerky with a distinctive Kentucky bourbon barrel wood smoked flavor!
Nutritional information
Ingredients: Beef, gluten free soy sauce (water, soybeans, salt, alcohol), brown sugar, honey, seasoning (sugar, sea salt, spices (including mustard), dehydrated garlic), lemon juice, black pepper, garlic powder, onion powder.
Contains: Soy
Package size: 2.2-oz
first time user..liked it and will buy again
Melts on your tongue
I can't explain in words the delicate tender juicy flavorful taste you get when you bite into a derby city bourbon barrel wood smoked beef jerky. The succulent morsels perform a waltz with taste buds inside your mouth and the carnival of pleasure derived from this experience can only be topped by opening up another derby city jerky bag.
Derby city bourbon beef jerky
Definitely not worth the price. Greasy…taste not good at all
Derby City Beef Jerky
This was very good jerky. Very soft and easy to chew. Lots of flavor.
Hi Kevin! Thank you for reviewing Derby City Bourbon Barrel Wood Smoked Beef Jerky. Happy to hear the jerky tasted very good! We agree it's very tender and flavorful. We just got a fresh batch in stock this week. We'll be here if you need any more bags. Thanks again for your 5-star review! Have a great day! - JerkyGent Team
Soooo good!
This was one of the most tender beef jerky brands I've ever had. Awesome taste!