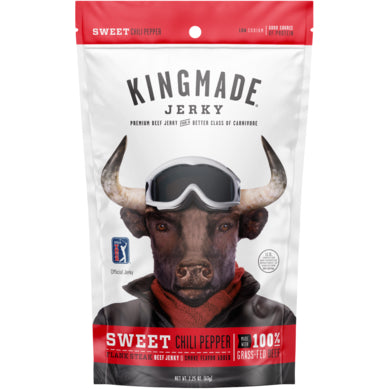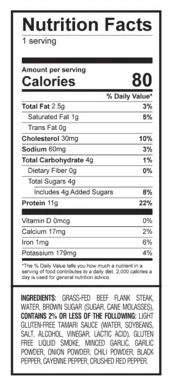 Kingmade Jerky
Kingmade Sweet Chili Pepper Flank Steak Beef Jerky, 2.25-oz
Made with tender cuts of beef flank steak and seasoned with brown sugar and chili peppers for a sweet and semi-spicy taste. One of the lowest sodium jerkies on the market at only 60mg of sodium per serving!
Gluten free
No nitrites added
All-natural
100% grass-fed beef
Low sodium
Nutritional information
Ingredients: Grass-fed beef flank steak, water, brown sugar (sugar, cane molasses), light gluten-free tamari sauce (water, soybeans, salt, alcohol, vinegar, lactic acid), gluten-free liquid smoke, minced garlic, garlic powder, onion powder, chili powder, black pepper, cayenne pepper, crushed red pepper.
Package size: 2.25-oz
Heat Level:
0 - Mild
10 - Extremely Hot
Absolutely horrible. I know they could've added some flavor without all the salt that usually accompanies jerky. This stuff is almost inedible, all i can taste is pepper on a horrendous stick of meat. Completely dried out and I wish i could return. 😂. Guess we've all gotta learn the hard way. I WILL NOT BUY AGAIN!!! I'm
I was happy to finally get jerky low in sodium. I have to ration it to last longer. It was very tender and easy to chew. I'll be back!