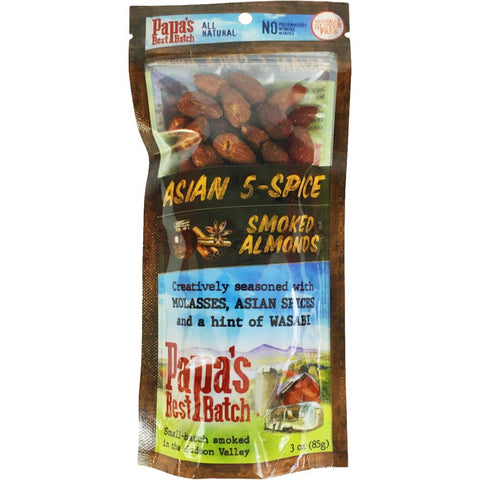 Papa's Best Batch
Papa's Best Batch Asian 5-Spice Smoked Almonds, 3.0-oz
Papa's
Asian Smoked Almonds are hand-marinated in molasses, Asian five spice powder, and wasabi powder. Then they spend six hours drying in the smoker, to add a delicious smokiness to each nut. A little sweet and a little spicy, Papa's almonds are a healthy and tasty snack for the whole family.
Creatively seasoned in small batches.
Hand-smoked over local applewood in the heart of Hudson Valley, NY.
Gluten free and contain no artificial ingredients.
Papa's only uses Non-GMO California Almonds.
Nutritional information
Ingredients: Almonds, Unsulfured Molasses, Cider Vinegar, Sea Salt, Wasabi Powder and other Spices.
Package size: 3.0-oz