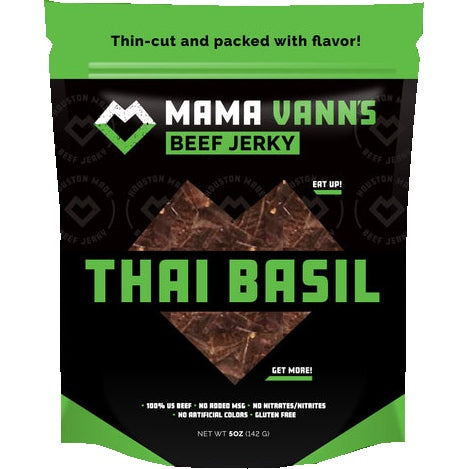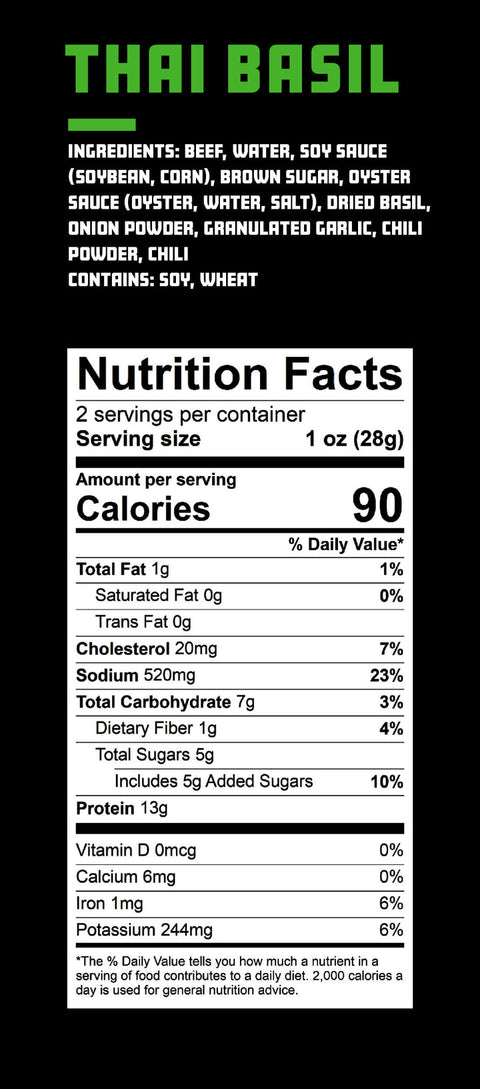 Mama Vann's
Mama Vann's Beef Jerky Thai Basil, 2.0-oz
Mama Vann flies to Thailand to personally source the chili peppers that are used in this delicious recipe! Sweetness, saltiness, basil, and a hint of spice creeps in at the end. A great blend of flavors that intermingle perfectly! 100% Beef, thin cut, packed with flavor, and highly addictive. It's to Thai for! 
100% Hand-Crafted
2 oz. bag of addicting jerky
No MSG Added
No Nitrates/Nitrites
No Artificial Colors
Gluten Free
13 Grams of Protein
Nutritional information
Ingredients: Beef, water, soy sauce (soybean, corn), brown sugar, oyster sauce (oyster, water, salt), dried basil, onion powder, granulated garlic, chili powder, chili.
Contains: Soy, wheat
Package size: 2.0-oz
Great flavor but not a fan texture wise
There's no half star rating but this would be 3.5 for me. Flavor is a solid 5 very savory and sometimes sweet and sometimes just a little kick. -1 for texture which seems like I'm chewing on a waxy gum wrapper for the first 15 seconds and -.5 for the look which just seems unnatural and unappealing but the flavor is enough to earn it the solid 4. I would definitely buy this as a gift for someone but doubtful I'd buy it for myself again.
P.S. thought of two last minute things that knocked it down to 3. Packaging does not have a zip lock seal on it which didn't matter until I read that it needed to be refrigerated after opening.