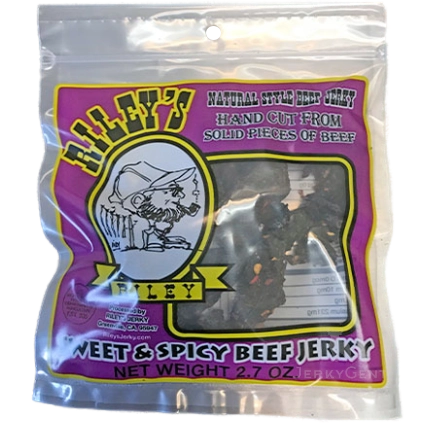 Riley's Beef Jerky
Riley's Natural Style Beef Jerky, Sweet & Spicy Beef Jerky, 2.5-oz
Riley's Natural Style Beef Jerky combines the perfect mix of sweet and spicy. With a delicate balance of sweet and savory flavors, this 2.5-oz jerky makes for a delicious, protein-rich snack.
Nutritional information
Ingredients: Beef, teriyaki sauce ((soy sauce (water, wheat, soybeans, salt), wine, sugar, water, vinegar, salt, spices, onion powder, succinic acid, garlic powder, sodium benzoate (less than 1/10 of 1% as a preservative)), Worcestershire sauce seasoning (dextrose, sugar, caramel color (contains sulfates), salt, garlic powder, spices, hydrolyzed corn protein, chili pepper, xanthan gum, citric acid, onion powder, soybean oil, silicone dioxide (to aid processing )), caramel color, citric acid, dextrose, propylene glycolusp, sodium benzoate, guar gum, potassium sorbate, oleoresin capsicum (propylene glycol, natural extractives of chili peppers, water)), soy sauce (water, wheat, soybeans, salt), crushed red peppers, brown sugar, water, garlic salt.
Package size: 2.5-oz