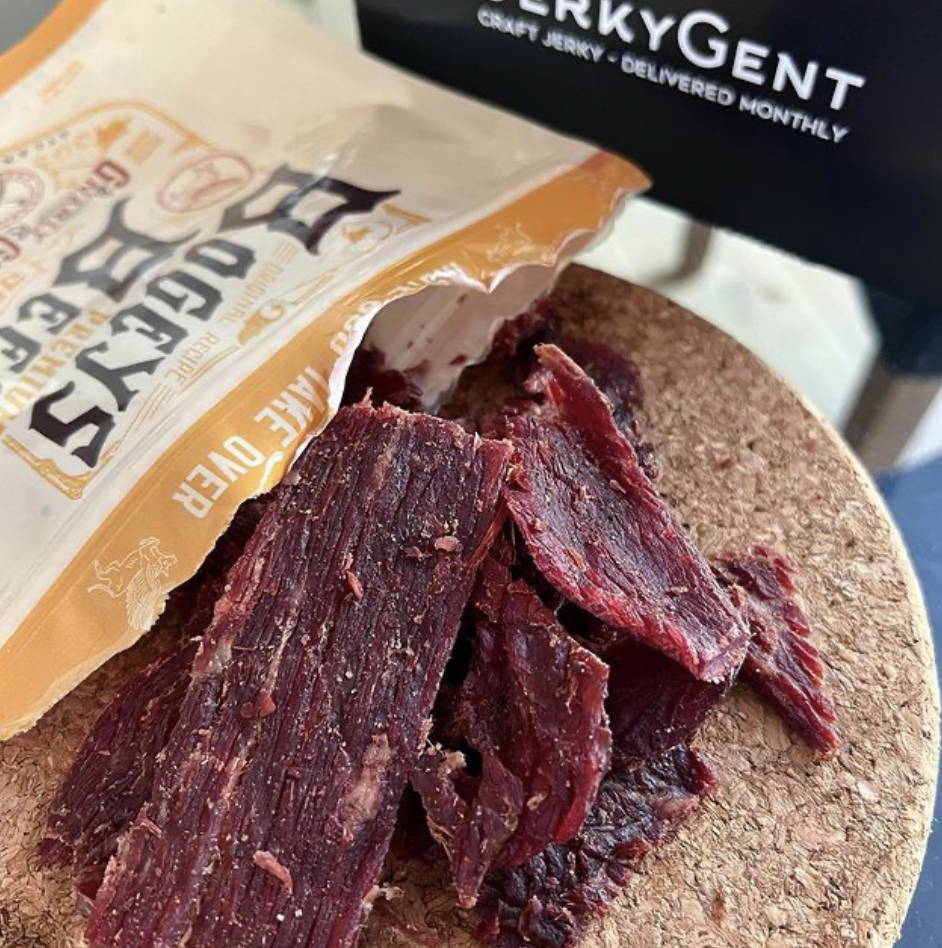 For the best tasting beef jerky, look no further than the 10 best beef jerky brands of 2022! We've searched across the country for the best tasting brands of beef jerky. Not only are these craft jerky brands super flavorful, but they are also handcrafted in small-batches and use the highest quality ingredients.
Top 10 Best Beef Jerky Brands Of 2022
2. Bogey's Premium Beef Jerky
Bogeys Beef Jerky is an award-winning jerky brand that has mastered their tender texture and smokey flavor. If you love spicy jerky, then you'd love their classic Smokey Fire flavor. Craving something more sweet? One of their most unique flavors is their sweet and juicy, Pineapple Express.
3. Vacadillos Carne Seca Jerky
Ready to turn up the heat? Thinly sliced, air dried Carne Seca by Vacadillos is sure to make your mouth water! Each bag is delightfully spicy and bursting with flavor! Plus, their jerky offerings are sugar-free and feature over 15g of protein per serving. Flavors include Habanero, Chili Lime, Chipotle Honey, and more. Check it out!
4. Brockhouse Pit-Smoked Beef Jerky
Brockhouse is handcrafted in small-batches over an open flame to deliver a truly unique, pit-smoked beef jerky snacking experience. Made with premium cuts of beef and slow smoked for hours to deliver some of the most authentic, and flavorful jerky on the market. We highly recommend trying their smoked BBQ Peach flavor. Learn more here.
5. Gnarly Premium Cut Wagyu Jerky
Wagyu jerky?! Yes please! Prepare your tastebuds for sweet cherry fused with the perfect amount of habanero heat! Gnarly Jerky's extra tender and flavorful, Cheribanero flavor, is sure to blow your mind. It's like nothing you've ever tried before!
6. People's Choice Beef Jerky
Savor an old-fashioned jerky, locally made in Los Angeles since 1929. No junk, no fillers, just delicious jerky. Using only premium slices of meat, this jerky is a little more on the tougher side... and oh-so-delicious! People's Choice carries over 10 unique flavors of their thick-cut beef jerky. You can find them all here!
7. Fusion Artisan Beef Jerky
A fusion of soft and tender Asian-style beef jerky. This jerky is loaded with cracked pepper flavor. It's one of the softest jerkies you'll ever try. It has no preservatives and no nitrates. If you love a good soft, peppered jerky, this one is for you. Try it for yourself.
8. Brothers Artisanal Premium Beef Jerky
Like hibachi in your mouth! This tender high-quality beef jerky doused with a generous amount of Korean BBQ spices like ginger and garlic. Brothers features the perfect amount of spice and tenderness to satisfy your jerky cravings. Give it a try!
Craft beer lovers, rejoice! Craft beer infused beef jerky is becoming an all-time favorite! And yes, this jerky pairs perfectly with an ice cold beer. You can taste the hoppy flavor in each bite. Find out more!
Get ready for a delicious, steak-like bite! Moses Family Jerky creates a beef jerky that really does taste like it has been smothered in your favorite steak sauce. Check it out here.
Want to discover more great beef jerky brands? Explore
JerkyGent's online jerky shop
of 200+ brands and flavors of delicious craft jerky. We offer a curated collection of premium, handcrafted beef jerky crafted by the best small-batch jerky makers across the country.