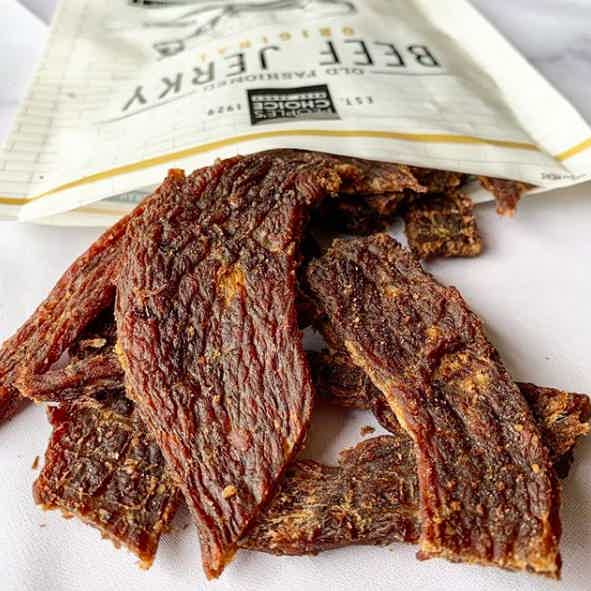 On the Keto diet or just looking to reduce your sugar intake? Prepare to feast on these sugar-free beef jerky flavors and brands. We've taste-tasted them all and promise they taste just as delicious as they look!
8 Of The Best Keto-Friendly & Sugar-Free Beef Jerky Flavors
1. Cattaneo Bros. Chipotle Beef Jerky
Made by a family-owned business, they've been creating healthy and delicious snacks since 1947. Your tastebuds will thank you for this delicious and smoky beef jerky. It's made from high-quality, grass-fed beef. Plus it's marinated with 0g of sugar for several hours. Grab a bag here.
2. People's Choice Old Fashioned Original Beef Jerky
One of our favorite classic beef jerky flavors! You simply can't go wrong with this one. This beef jerky offers 0g of sugar, 0 carbs, 16g of protein, gluten free, no MSG, no nitrites... need we say more? You can find it on the JerkyGent online jerky shop.
3. Brooklyn Biltong Original Flavored Grass-Fed Biltong
Not quite beef jerky, but rest assured it tastes just as good (and as some would say, even better!). This thin, air-dried beef biltong is sugar-free, and doesn't have corn syrup, or artificial preservatives. Plus, it's paleo and keto-friendly! It's even whole 30 approved. With the perfect amount of black pepper and sea salt, this healthy snack is bursting with flavor. Find more flavors here!
4. Styrve Original Beef Biltong
Say hello to these air-dried, high-quality beef bites! Their classic recipe is sure to satisfy your snack cravings. This great-tasting biltong has 0g of sugar and 16g of protein making it a healthy snacking option. Learn more.
5. People's Choice Old Fashioned Hot & Spicy Beef Jerky
Another popular spicy and sugar-free beef jerky is People's Choice Old Fashioned Hot & Spicy! This jerky is handcrafted the old fashioned way in Los Angeles, CA. It includes a good amount of red pepper flakes! It's a subtle and enjoyable spice that will keep you coming back for more. Many people describe it as a well-balanced jerky that you can enjoy time and time again.
6. Werner Zero Sugar Teriyaki Beef Jerky
Based in Oregon,
Werner's jerky
is handcrafted in small-batches with a unique blend of sugar-free spices. It's naturally wood-smoked offering delicious smoky pepper, original, and teriyaki flavors. Their keto-friendly jerky has zero sugar and zero carbs.
Find it here.
7. Righteous Felon Ancho Villa Beef Biltong
This revolutionary sugar-free beef biltong recipe is made to satisfy your cravings for a spicy snack. Packed with 32g of protein, this thinly-sliced beef is loaded with ancho, chipotle, cayenne, habanero peppers. Discover more.
8. Side Project Pho Beef Jerky
An on-the-go version of the popular Vietnamese noodle soup, Pho! We recommend trying this flavor of jerky at least once. With 0g of sugar it makes the perfect sugar-free snack that's packed with savory and delicious flavor. Check it out here.
Looking for more sugar-free beef jerky options? We recommend exploring all the sugar-free beef jerky flavors available on our online JerkyGent Shop. We'd love to hear your feedback on which flavor you like the best!