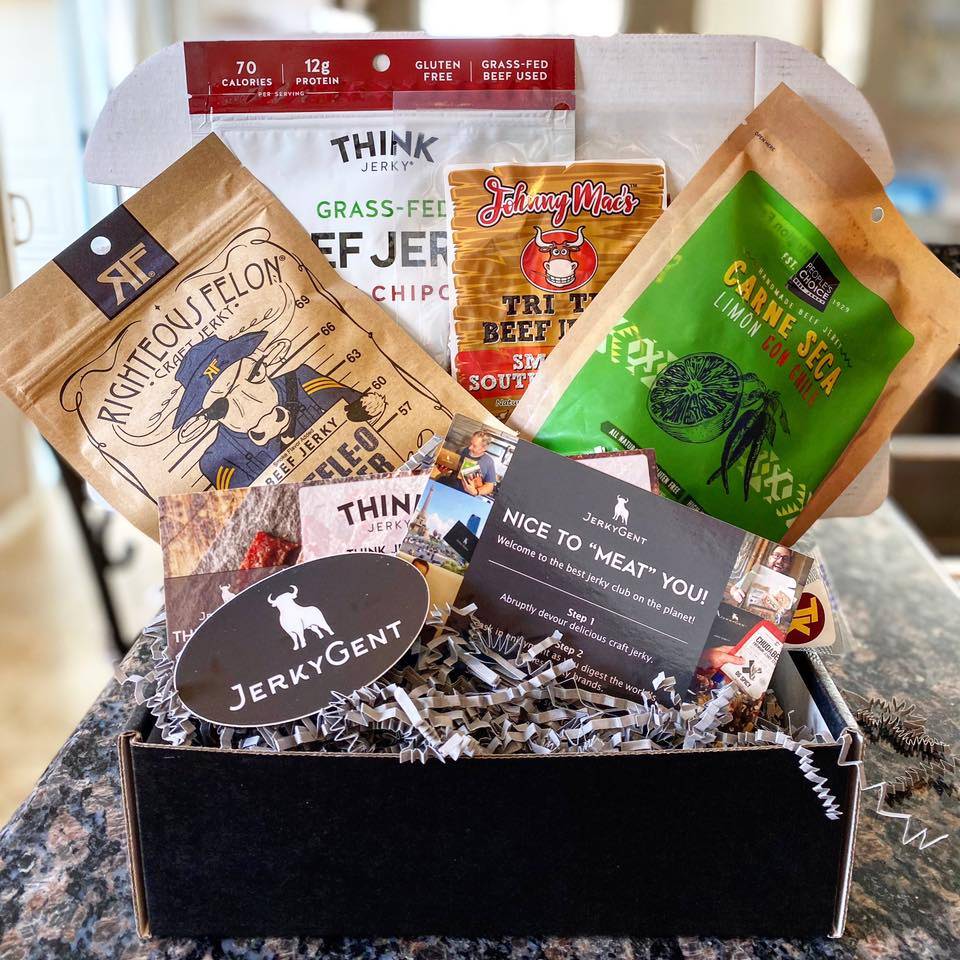 Premium beef jerky makes an awesome gift for birthdays, graduations, anniversaries, holidays, or any special occasion! You can never have enough great-tasting jerky at home. That's why it's the perfect gift for that person in your life who has it all! At JerkyGent.com, we carry some of the highest-quality craft jerky brands on the market. We only ship the best of the best jerky, made by artisan jerky makers across the country. Below is a list of beef jerky gift boxes that will be sure to impress any jerky lover in your life! 
6 Of The Best Beef Jerky Gift Boxes  
1. A Monthly SUbscription To BeeF Jerky!
Gifting someone a monthly subscription to beef jerky is the ultimate gift for any jerky lover! It truly is the gift that keeps on giving. Every month they will receive 4 high-quality jerky brands delivered to their doorstep. All gift subscriptions are pre-paid, so you're only changed once. You can select from gifting a 3, 6, or 12 month subscription. Plus, you can choose your spice preference from: mild, spicy, or "try them all." A personalized gift note is included too. 
Check it out! 
2. The JerkyGent Inferno Gift Box  
Perfect for spicy lovers and daredevils! The JerkyGent Inferno Gift Box let's you sample 4 of the hottest beef jerky brands and flavors. This spicy challenge is fun to gift because it will require the person to work his or her way up to the hottest jerky bag in the box: Savage Jerky's Reaper! This jerky is made with the world's hottest pepper called, Carolina Reaper. It's a one-time gift box - perfect for entertaining any spicy jerky lover. Find it here!  
3. Build Your Own Beef Jerky Gift Box
Want to pick out your own flavors? At JerkyGent, we carry over 100 delicious brands and flavors of beef jerky on our online shop. When you order 4 or more bags, we'll put the bags in one of our black custom JerkyGent boxes. Gift notes can be included by special request. Start exploring! 
4. JerkyGent One-Month Gift Box
Want to gift premium beef jerky, but don't want to commit to a monthly subscription? This gift box is a one-time (1 month) purchase. It includes a handpicked assortment of 4 delicious beef jerky brands. You can select from only mild flavors or only spicy flavors. Or a combination of trying them all! You can even include a thoughtful gift note inside the box. Select the 1 month gift option at checkout, here. 
5. Holiday Beef Jerky Gift Box
Our JerkyGent holiday gift box only comes around once a year in November and December. We recommend ordering this beef jerky gift box early, as it tends to sell out fast! It typically includes 8 bags of great-tasting jerky brands to sample. It's shipped in a red holiday JerkyGent gift box. You can select your ship date at a checkout, making it easy to order ahead of time. Only available around the holiday season at JerkyGent.com. 
6. Father's Day Beef Jerky Gift Box
Once a year JerkyGent offers a limited-edition Father's Day gift box. It comes in a black, stylish box with 7 bags of the most popular beef jerky brands for the year. Check back around late-May and June to order this special gift box. In the meantime, explore our website for tasty jerky at JerkyGent.com!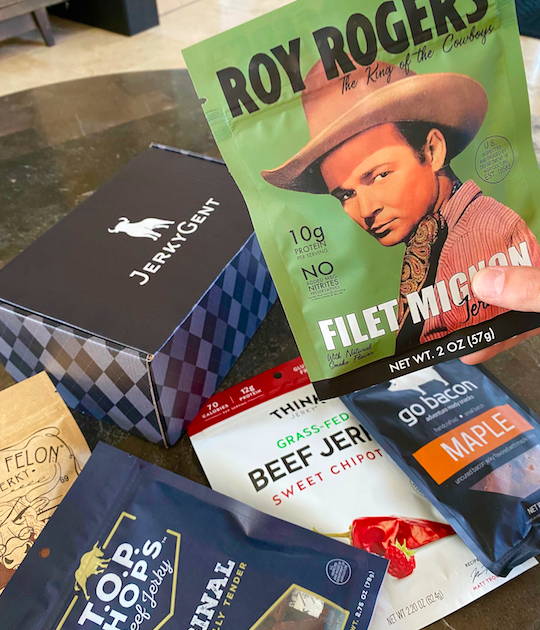 All the beef jerky gifts mentioned above are perfect for Dads, husbands, brothers, coworkers, friends, etc! Read over 320 5 star reviews here. Want to explore more beef jerky gifts? Shop even more options at JerkyGent.com.