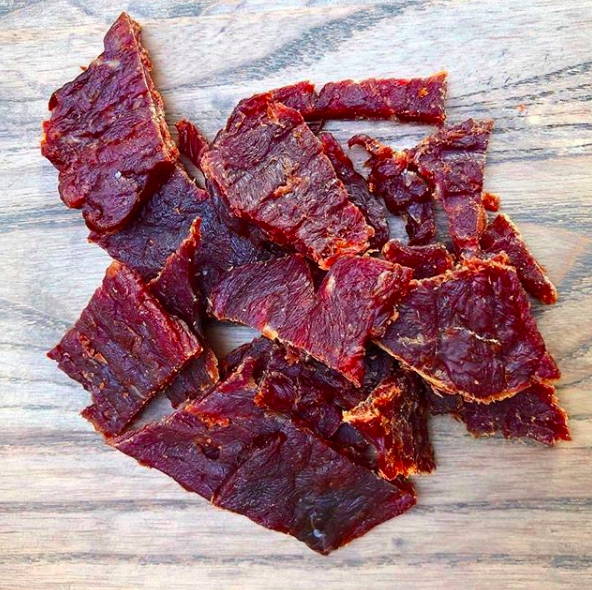 Think all beef jerky is super salty? Think again! Great-tasting, low-sodium beef jerky does exist. If you're looking to reduce your sodium intake, the delicious bags of beef jerky listed below only have between 60mg to 140mg of sodium.
12 Of The Best Low-Sodium Beef Jerky Flavors
1. HomeGrown Meats Joel's Traditional Beef Jerky
Made with 100% grass-fed beef and only 105mg of sodium! This traditional jerky is both tender and delicious. If you love great-tasting mild and traditional flavored beef jerky, this jerky is for you. It's gluten-free too! Learn more here.
2. Baja Street Taco Beef Jerky
Bursting with zesty street taco flavor, this beef jerky is some of the most unique and flavorful jerky on the market. Using premium beef, it's coated with the perfect blend of cilantro, garlic and onion. It has 11 grams of protein, 1 gram of sugar, and only 120mg of salt. Order a bag today and try it for yourself!
3. Jerky's Gourmet Smokehouse BBQ Beef Jerky
This beef jerky is everything you would expect from a delicious BBQ jerky - it's smoky, sweet, and tangy! At only 85mg of sodium, this jerky has some of the lowest sodium levels. It's also gluten-free, with no hormones or antibiotics added. Find out more here.
4. Kingmade Sweet Chili Beef Jerky
Only topping at 60mg of sodium, Kingmade Jerky delivers a mildly sweet and spicy jerky, made out of premium flank steak. This jerky brand is also the official jerky of the PGA Tour. Perfect to take on golf or hiking trips! It's all natural, low sodium, gluten-free, and made with 100% grass-fed beef. Need we say more? You can find it here.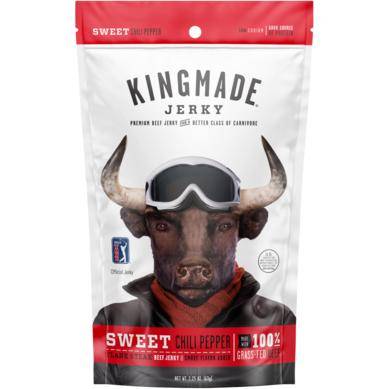 5. Wicked Cutz Carolina Killa Beef Jerky
Warning: this jerky is extremely spicy! It's made with Carolina Reaper peppers, making it one of the hottest beef jerky flavors on the planet! It's rated 4.8 out of 5 stars by spicy lovers. Surprisingly, it only has 105mg of sodium. Check it out!
6. Stone Brewing Tangerine Express Beef Jerky
Love IPA beers? This jerky is infused with Stone Brewing's most popular IPA called, Tangerine Express IPA. It features vibrant citrus flavors and a tender, juicy texture. At only 105mg of sodium, it's a great option and packed with flavor. Pick up a bag here.
7. C-Star Provisions Bourbon Peppercorn Beef Jerky
Crafted with only the best-quality ingredients, this jerky is packed with flavors and textures only found in a fine steakhouse. The bourbon adds a little sweetness, followed by bold flavors of cracked peppercorn and garlic. It's a great source of protein at 33 grams. Also, it has low sodium and only contains 2 grams of sugar. Try a bag!
8. Wicked Cutz Volcanic Jalapeño Beef Jerky
Exploding with fresh jalapeño flavor! Each bite is tender and slowly builds to a nice spice that is appreciated by spicy jerky lovers nationwide. However, it does have a bit higher sodium levels at 220mg. Find out more.
9. Baja Churro Beef Jerky
You read this right! A churro flavored beef jerky really does exist! If you want to treat yourself to something sweet, we highly recommend giving this jerky a try. It's coasted with cinnamon and sugar. It tastes just like a churro! It's low sodium, gluten-free, and contains no MSG, nitrites, or nitrates. Treat yourself here.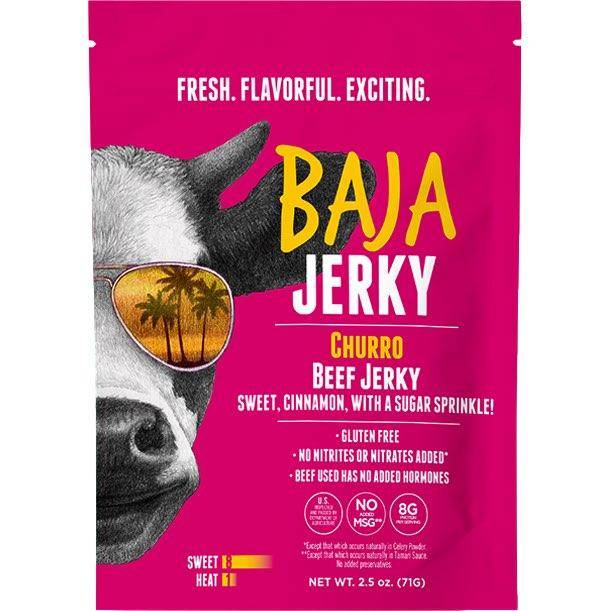 10. Jerky's Gourmet India Pale Ale Beef Jerky
Made with 100% grass-fed premium beef and marinaded for 48 hours in a delicious west coast IPA. This one only contains 85mg of sodium. Prepare to snack guilt-free. Check it out here.
11. Kingmade Classic Beef Jerky
At only 110mg of sodium, Kingmade Jerky's classic beef jerky flavor is both delicious and healthy. It's made with lean flank steak and dosed in a signature blend of steakhouse spices. It's a mild and traditional, tougher jerky that will keep you coming back for more. You can order a bag here.
12. Jerky's Gourmet Black Pepper Beef Jerky
Last but not least! If you love a good peppered jerky, than you've got to try Jerky's Gourmet Black Pepper. It only contains 105mg of sodium. It's handcrafted and packed with protein at 18 grams, and it's made with 100% grass-fed premium beef. What's not too love?
Looking for more low-sodium jerky options? At JerkyGent.com, we carry dozens of low-sodium brands and flavors on our online shop. We offer an ever-changing, curated assortment of the best-tasting jerky brands made by artisan jerky makers across the country. Also, we offer a monthly subscription box filled with delicious beef jerky.
Let us know what your favorite low-sodium, beef jerky flavors are in the comments below!