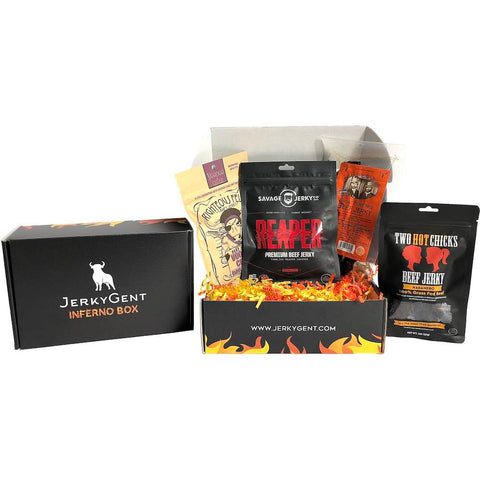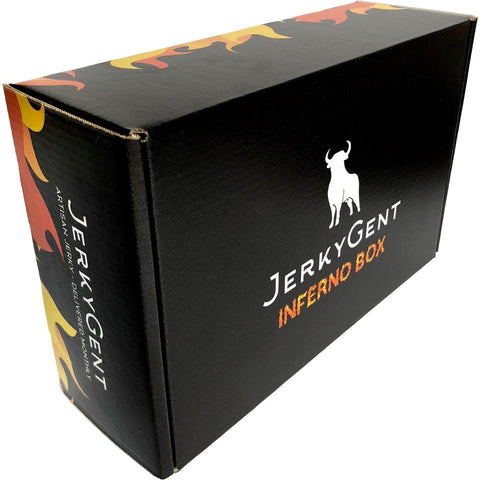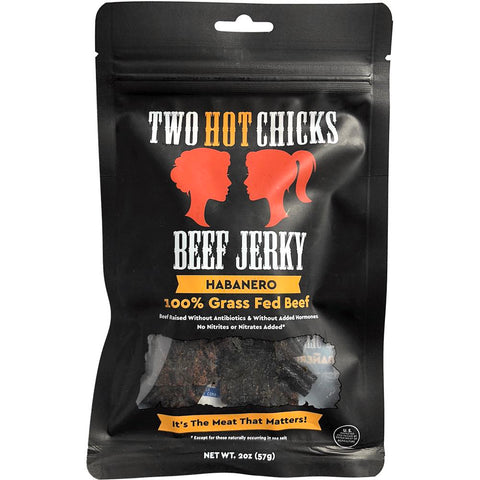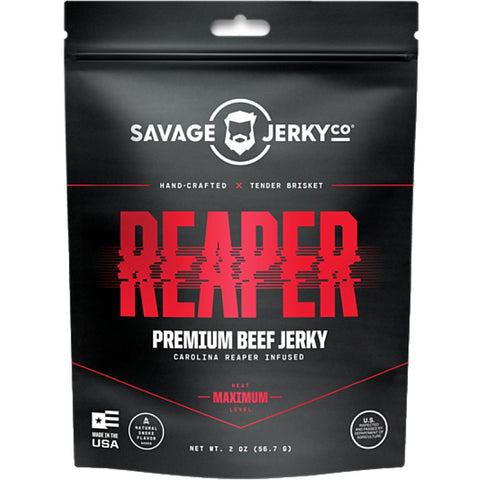 JerkyGent
JerkyGent Inferno Box - The Ultimate Hot & Spicy Beef Jerky Sampler
How much HEAT can you handle?
The JerkyGent Inferno Box takes spicy beef jerky to another level!  Challenge yourself and others to 4 of the hottest beef jerky flavors known to man. Each bag of beef jerky offers a unique flavor and spice level, starting with sizzling Habanero and ending with the spiciest of all peppers, the Carolina Reaper! How much heat can you handle?
Beef Jerky Included:
Two Hot Chicks, Habanero, 2.0-oz  
Righteous Felon, VooDoo Chile, 2.0-oz  
Bakke Brothers, Ghost Peppered, 3.2-oz  
Savage Jerky Co., Reaper, 2.0-oz  
Plus Free Shipping!
Nutritional information
Ingredients:
Package size:
I loved it I'm ordering more of those samples asap
Ultimate Hot Box
I bought this box for a friend. He absolutely loved this box.
Hey Phillip! Thanks for gifting the JerkyGent Inferno Box and leaving a 5-star review. Happy to hear your friend loved sampling 4 of the hottest jerky flavors! It's the perfect gift for spicy lovers! Looking forward to you ordering from us again in the future. Thanks again for your review! Have a great weekend! - JerkyGent Team
JerkyGent Inferno Box
My son loved the item!
It is too bad that you do not allow your customers to purchase a couple of months at a time. Why make someone cancel the subscription? No phone number?
Hi Andrew! Thanks for the 5 star review. Happy to hear your son loved the JerkyGent Inferno Box! We offer prepaid 3, 6, & 12 month gift subscriptions as well. Gift subscriptions automatically end on the last month (no need to cancel). Thanks again for your review! We're available via email or chat anytime. Have a great day! - JerkyGent Team
Great Gift!
Bought this for my husband for Christmas, he was excited to try the hot jerky! He is starting with the least hot and going from there.. so far so good!
Thanks for sharing! We really appreciate the feedback!
You Made My Husband Cry
My husband LOVES spicy things. He lives with the hottest of hot sauces with him nearly every second of the day; however, the Inferno jerky had him in tears. He still ate it all and was up all night with mad heartburn, but he did it. And he lived! For anyone curious, he said it had a great flavor but also tasted like fire.