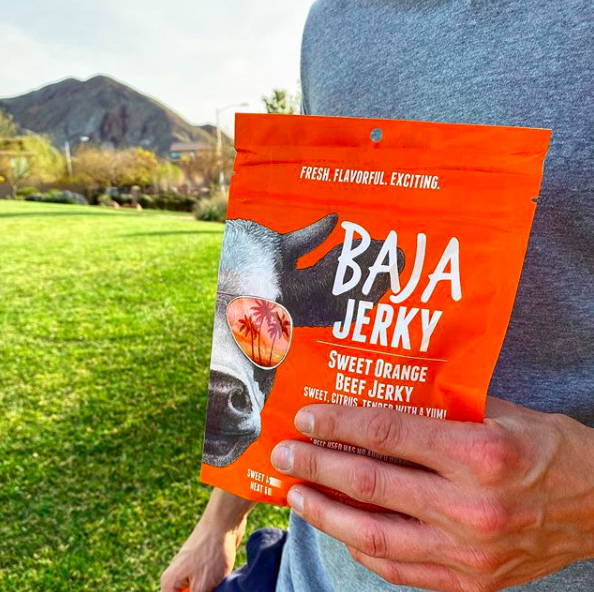 Wondering which beef jerky brands are gluten-free? We've found some of the best-tasting brands for you to try. If you're looking for the best gluten free beef jerky, this list is for you. This list includes 8 of the best gluten-free brands on the market right now. 
Top 8 Gluten-Free Beef Jerky Brands 
1. Righteous Felon Beef Jerky 
The premium, craft jerky brand Righteous Felon offers 8 amazing gluten-free flavors of beef jerky. All their flavors are delicious, but one of our favorites is their original beef jerky flavor called O.G. Hickory. You simply can't go wrong trying this brand of gluten-free beef jerky. 
If you enjoy original and tender beef jerky, this bag has the perfect balance of savory and smoky flavors with a tender texture. 
If you're looking to try unique flavors of gluten-free beef jerky, Baja Jerky offers just that! They offer fresh flavors like Sweet Orange, Salsa Fresca, Churro, and Lime & Serrano. All their flavor combinations are truly unique and gluten-free. Their beef jerky recipes have no preservatives, no nitrites, and no MSG. Each bag is packed with over 10g of protein too. 
3. CAttaneo Bros Range Beef Jerky 
Made with 100% grass-fed premium beef, Cattaneo Bros delivers unbelievably healthy and delicious flavors of gluten free beef jerky. Their jerky is also sugar-free and marinated for several hours. They offer some of the purest beef jerky on the market. Find out more. 
4. TOP CHOPS Gluten-Free Beef Jerky
For an exceptionally tender, gluten free brand of beef jerky, you've got to TOP Chops. If you like spicy jerky, you've got to try their Red Chili Pepper flavored beef jerky. It has the perfect amount of heat and it's made with tender brisket. Ready to dig into a bag? 
5. ToPAnga's Finest Beef Jerky
Prepare to devour this tender and delicious gluten-free beef jerky.  Topanga's Finest beef jerky is an all around delicious and healthy low-fat snack option. Available in a generous 3oz bag. Their jerky even comes with a flosser inside the bag. Whether you like mild or spicy jerky, you can't go wrong trying their mild original or spicy sriracha flavors. 
6. Jerky's Gourmet Beef Jerky 
Feeling brave? Than you've got to try Jerky's Gourmet Ghost Pepper beef jerky! Jerky's Gourmet offers 7 different gluten free flavors, but if you want to try some extreme heat, than the ghost pepper flavor is for you. All their jerky is made with 100% grass-fed beef, no preservatives, and no hormones. You can check out their other flavors here. 
7. Katie's Spicy Garlic Lovers Dream Beef Jerky
Garlic lovers, this jerky is perfect for you. Katie's premium beef jerky offers a great-tasting, gluten-free garlic infused jerky with a kick! This jerky has no MSG and no nitrites too. Grab a bag here. 
8. People's Choice Old-Fashioned Beef Jerky 
A tougher, old-fashioned style of beef jerky that's gluten free. It's all natural and full of protein at 16g per serving. It's also sugar free and minimally processed. Learn more here. 
Interested in finding more gluten-free beef jerky brands? Explore more great-tasting brands and flavors on our online beef jerky shop. Let us know which gluten-free brand is your favorite in the comments below too!