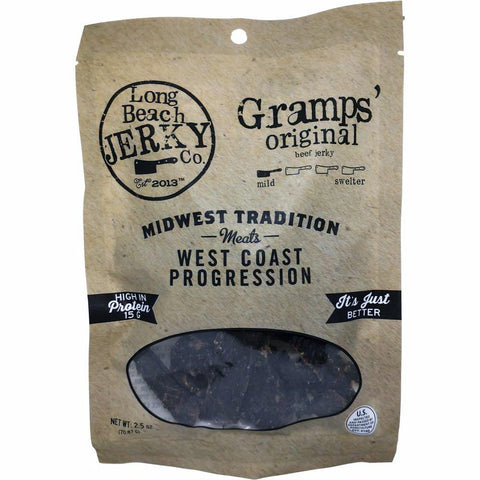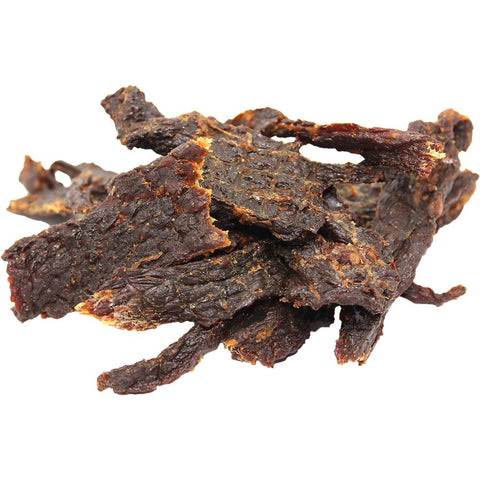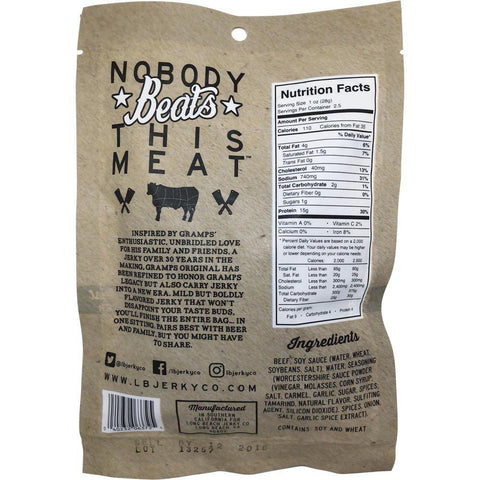 Long Beach Jerky Co.
Long Beach Jerky Co. Gramps Original, 2.5-oz
Gramps' original recipe has been done the same way for generations, a jerky over 30 years in the making. Mild but boldly flavored jerky that won't disappoint your taste buds. You'll finish the entire bag… In one sitting.
Nutritional information
Ingredients: Beef, soy sauce (water, wheat, soybeans, salt), water, seasoning (worcestershire sauce powder (vinegar, molasses, corn syrup, salt, carmel, garlic, sugar, spices, tamarind, natural flavor, sulfiting agent, silicon dioxide), spices, onion, salt, garlic spice extract).
Contains: Soy and Wheat
Package size: 2.5-oz
Heat Level:
0 - Mild
10 - Extremely Hot
Cali Love
I first tried this jerky while visiting California and I love it! I am so glad this brand is offered and the price is reasonable.
This is amazing!
I love my jerky on the dyer side, and this is perfect for me. I'm going to be ordering more soon, I would compare this to Matt-Hat jerky's keto jerky, but this is drier. The flavor is so amazing.
Best Jerky
This is seriously the best jerky! All of the flavors are delicious! Super tender with a real meat texture, not that compacted/processed texture of store bought brands. Has a ton of flavor. The Buffalo Wing is my favorite, but you can't go wrong with any of them. I bought several packages before Christmas and they were a huge hit. I would highly recommend.
Hey there! Thank you for reviewing Long Beach Gramps Original Beef Jerky. We're very pleased to hear this bag of beef jerky is one of your favorites! It does indeed have a real meat texture and tastes very natural. We look forward to sending you more of this deliciously tender beef jerky in the future. Thanks again for the 5-star review! Happy chewing! - JerkyGent Team
Perfect Flavor!
Received this in the monthly subscription and had to get more! Subtle Smokey flavor and great consistency, not too hard, not too soft. Kids liked it as well.
Hey Andrew! Appreciate you taking the time to review Long Beach Jerky Co.'s Gramps Original! Awesome to hear you decided to stock up after trying a bag in your subscription box! This jerky does indeed have a hint of smoky flavor and a great texture. You simply can't go wrong! Happy to hear the kids liked it as well! Thanks again for your feedback. We appreciate it as always! Have a great day! - JerkyGent Team
Nice
This one was good but one of my least favorite of the box, but just because it was on a box. Have I tried it individually it will probably be a 5 stars