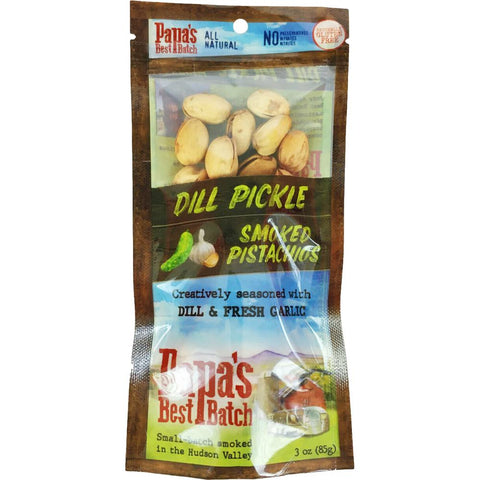 Papa's Best Batch
Papa's Best Batch Dill Pickle Smoked Pistachios, 3.0-oz
Papa's
Dill Pickle Smoked Pistachios sit in a combination of dill seed powder, fresh garlic, cider vinegar and a bit of sea salt. They follow this up with six hours in the smoker, to bring the smoky flavor to the forefront. The smoky, garlicky, dill goodness, makes it hard to keep from eating the whole bag in one sitting!
Creatively seasoned in small batches.
Hand-smoked over local applewood in the heart of Hudson Valley, NY.
Gluten free and contain no artificial ingredients.
Papa's only uses Non-GMO California Pistachios.
Nutritional information
Ingredients: Pistachio Nuts, Garlic, Cider Vinegar, Dill Seed Powder, Sea Salt
Package size: 3.0-oz