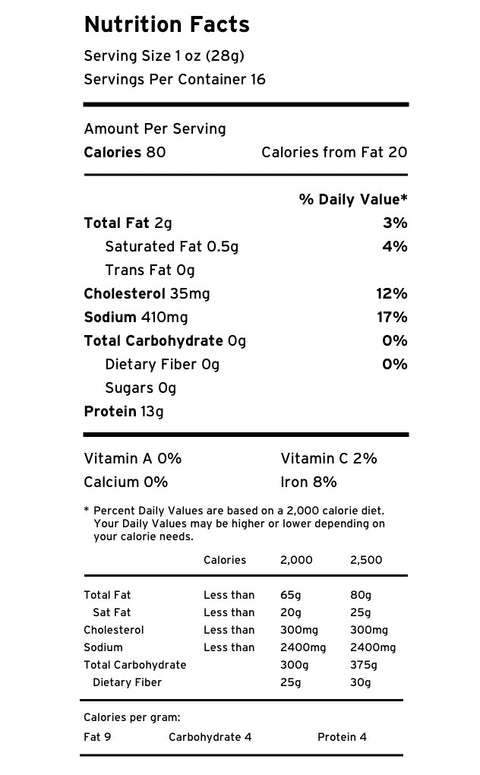 People's Choice
People's Choice Carne Seca Hatch Green Chile Beef Jerky, 2.5-oz
Thick strips of 100% American beef, marinated with distilled white vinegar and an all-natural spice blend featuring ground Hatch green chiles, then slow-cooked for a minimum of 5 hours to craft this JerkyGent favorite!
The Initial kick of bold and smokey Hatch green chile blends with the earthiness of tomato powder and mild pungency of garlic and onion, brightened up by vinegar and seasoned to perfection with sea salt.
Nutritional information
Ingredients: Beef, distilled white vinegar, water, seasoning (spices with hatch green chile), salt, garlic, tomato powder, onion.
Package size: 2.5-oz
good flavor
nice flavor def would buy again
Hey Bridget! Thanks for taking the time to review People's Choice Carne Seca Hatch Green Chile Beef Jerky. We agree the jerky does have a really nice flavor. Glad to hear you would buy this bag of jerky again! Thanks again for leaving a review. Have a nice weekend! - JerkyGent Team
Hey Joe! Thanks for reviewing People's Choice Hatch Green Chile Beef Jerky. Happy to hear it tasted really good and you give it 5-stars. It's one of the newest flavors released by People's Choice. It's super flavorful and hard to pass up! Thanks again for reviewing the jerky. Your feedback is very much appreciated. You know where to find us if you need any more. Have a great day! - JerkyGent Team