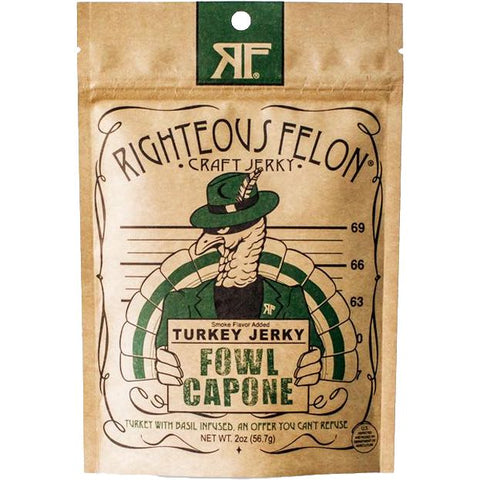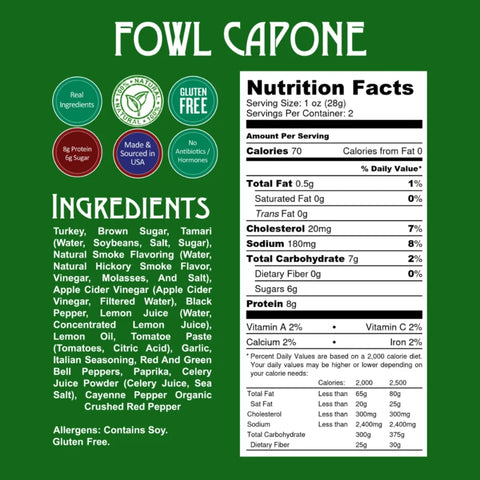 Righteous Felon
Righteous Felon Fowl Capone Basil Infused Turkey Jerky, 2.0-oz
One of Righteous Felon's newest flavors! This isn't your basic turkey jerky. It's much more flavorful! This jerky features tender cage-free turkey breast with a robust basil flavor and hints of cracked pepper and lemon zest. You'll also taste some smokey and sweet flavor as well.
Nutritional information
Ingredients: Turkey, brown sugar, tamari (water, soybeans, salt, sugar), natural smoke flavoring (water, natural hickory smoke flavor, vinegar, molasses, salt), apple cider vinegar (apple cider vinegar, filtered water), black pepper, lemon juice (water, concentrated lemon juice), lemon oil, tomato paste (tomatoes, citric acid), garlic, italian seasoning, red and green bell peppers, paprika, celery juice powder (celery juice, sea salt), cayenne pepper, organic crushed red pepper.
Contains: Soy
Package size: 2.0-oz
Really Good!!!
I really enjoyed this Jerky. It tasted great and the texture was good too. I will be getting more & highly recommend it.
Hi Kate! Thanks for reviewing and recommending Righteous Felon's Basil Infused Turkey Jerky. Happy to hear you enjoyed the flavor and texture. It's one of our favorite bags too! Thanks again for the review. Have a nice day! - JerkyGent Team