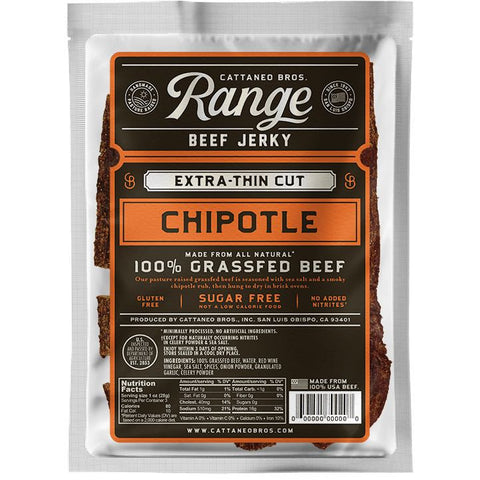 Cattaneo Bros.
Cattaneo Bros. Range Beef Jerky Chipotle, 3.0-oz
A delicious smoky twist on the Cattaneo classic! Family-owned and mom operated out of San Luis Obispo, CA. Cattaneo Bros has been creating healthy snacks since 1947. Made from grassfed top rounds, sliced in solid strips, marinated without sugar or nitrates, and dried in brick ovens for some of the purest jerky you can find.
Sugar free

Gluten free

No added nitrates

Minimally processed

No artificial ingredients

Made from pasture raised all natural 100% grassfed beef
Nutritional information
Ingredients: 100% grassfed beef, water, red wine vinegar, sea salt, spices, celery powder, onion powder, granulated garlic.
Package size: 3.0-oz