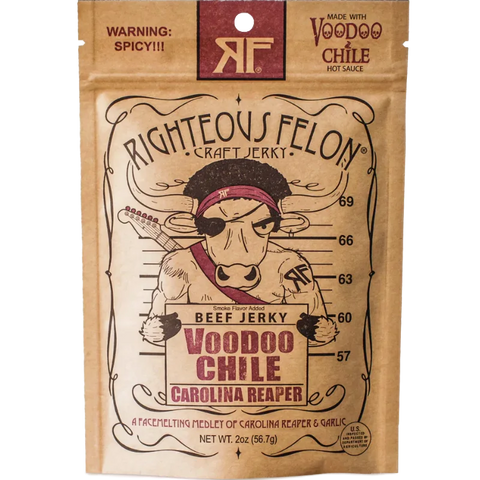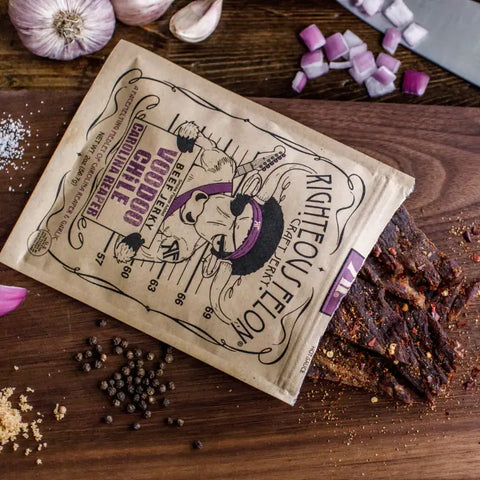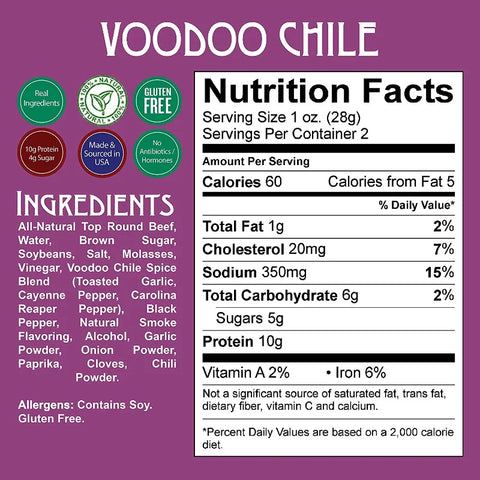 Righteous Felon
Righteous Felon Voodoo Chile Carolina Reaper & Garlic Beef Jerky, 2-oz
Righteous Felon's spiciest offering consists of a collaboration with Voodoo Chile Sauces, featuring a pinch of the worlds hottest pepper, the Carolina Reaper. A facemelting burn rounded out with a hefty dose of garlic. Warning - this one is extra spicy!
Nutritional information
Ingredients: Beef, water, brown sugar, soybeans, salt, molasses, vinegar, voodoo chile spice blend (toasted garlic, cayenne pepper, carolina reaper pepper), black pepper, natural smoke flavoring, alcohol, garlic powder, onion powder, paprika, cloves, chili powder.
Contains: Soy
Package size: 2.0-oz
My favorite reaper jerky by far wish you made bigger bags I'd buy it by the pound
Yummy!
Not as spicy as you would assume but very flavorful. Defiantly hotter than ghost pepper chips. I love this stuff!
Hey Dave! Thank you for reviewing Righteous Felon's VooDoo Chile Beef Jerky. Happy to hear the jerky tasted very flavorful and you enjoyed the spice level. We're looking forward to you trying more great-tasting spicy flavors of beef jerky. Thanks again for your awesome review. We greatly appreciate your feedback and look forward to you ordering from us again. Have a great day! - JerkyGent Team
It was good. But not as spicy as I thought.