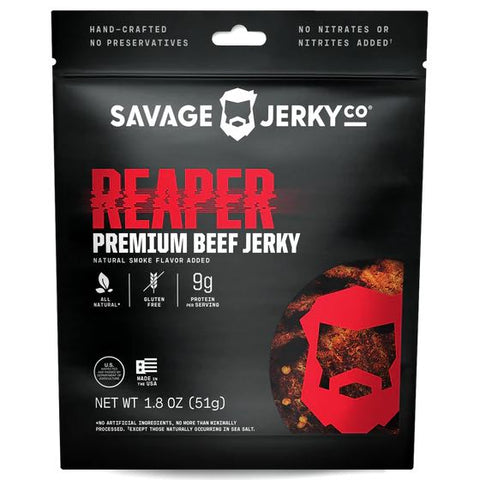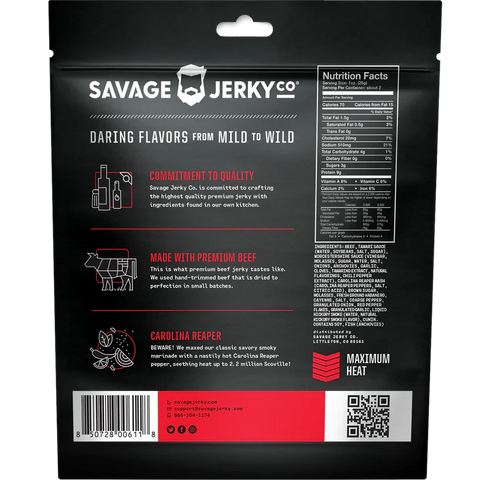 Savage Jerky Co
Savage Jerky Co Reaper - Carolina Reaper Pepper Infused Beef Jerky - Extra Hot, 2.2-oz
Infused with the hottest pepper known to man, the Carolina Reaper, Savage Jerky Co's Reaper delivers an extreme heat that burns to the core. Buckle up, grab a glass of milk or two, and expect an eruption of heat with a stinging burn that could last up to 20 minutes or longer.
Nutritional information
Ingredients: Beef, gluten free tamari sauce (water, soybeans, salt, sugar), Worcestershire sauce (vinegar, molasses, high fructose corn syrup, anchovies, water, onion, salt, garlic, tamarind extract, cloves, natural flavorings, chili pepper extract, hydrolyzed soy and corn protein), carolina reaper mash, brown sugar, molasses, fresh ground habanero, cayenne, kosher salt, coarse pepper, granulated onion, red pepper flakes, granulated garlic, hickory smoke, cumin.
Contains: Soy, natural smoke flavor added
Package size: 2.2-oz
Heat Level:
0 - Mild
10 - Extremely Hot
Too spicy
The quality of the meat was excellent but way too spicy. I was only able to eat one piece because my mouth was burning. Good if you love spicy spicy food. Not ideal for a snack.
It was as I expected it to be
Love it can't wait to order more
Hi Andrew! Thank you for reviewing Savage Jerky Co.'s Reaper Beef Jerky. Happy to hear you loved the extra spicy flavor! We'll be here if you need to stock up on more bags. Thanks again for your awesome review on the jerky. Have a great week! - JerkyGent Team
Just what I was expecting
I love trying really spicy things and this was definitely it. Even with the heat there was an awesome flavor and the product had just the right amount of moisture. It only goes up to 5 stars but 10 out of 10 honestly
Hey Zach! Thanks for reviewing Savage Reaper Beef Jerky. We're pleased to hear you enjoyed the extreme heat and would rate this jerky 10 stars if you could. Looking forward to sending you more spicy jerky in the future. Thanks again for your review. Have a great weekend! - JerkyGent Team
Very Good
I bought two bags, one for me and the other for a friend and her family. It was a combination of tasty, hot and spicy. The heat lasted about 3 minutes and then I wanted to eat it again. But not as hot as I thought it would be. Will purchase other flavors.
Hi Vanessa! Thank you for reviewing Savage Jerky Co. Carolina Reaper Beef Jerky. Happy to see you rated the jerky 5-stars! Glad it had a good amount of heat and you wanted to keep eating more. Can't wait for you to try other spicy jerky flavors! Thanks again for sharing your feedback on this bag of jerky. Happy chewing! - JerkyGent Team
The best!
This jerky uses quality meats, quality spices and is always tender and never bone dry run of the mill jerkys. I've been a fan for quite some time.
Hey James! Thanks for reviewing Savage Jerky's Carolina Reaper Beef Jerky. Nice to hear you appreciate the quality of the meat and spices used. Glad you have been a fan of the jerky for awhile. We just got a fresh batch in stock this week. Looking forward to sending you more. Thanks again for your 5-star review. Have a great day! - JerkyGent Team