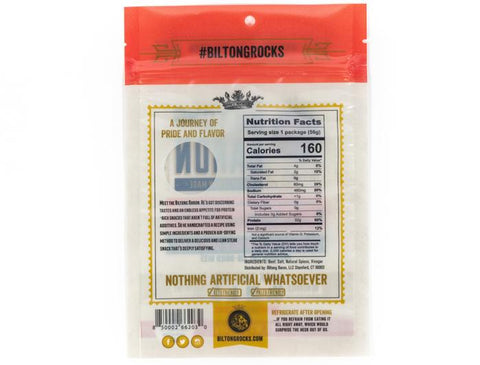 Biltong Baron
Biltong Baron Cowboys N' Campfires Smoky Chili, 2.0-oz
Thick and tender bites of delicious beef biltong featuring mild smoked Spanish paprika, imported from Spain, these sweet peppers have been slow-smoked over oakwood and finely ground to add a seductive smoky flavor.
No Artificial Additives
No MSG
No Nitrates
No Sugar
No Gluten
Nutritional information
Ingredients: Beef, salt, natural spices, vinegars.
Package size: 2.0-oz
Amazing jerky, most of the time
This is one of my favorite jerkies. The only problem is when you get a bad bag. I have encountered multiple bags in my order that taste spoiled and smells like dog food. I'm not sure how that is the case. The expiration date on all of the bags is 5/2023.