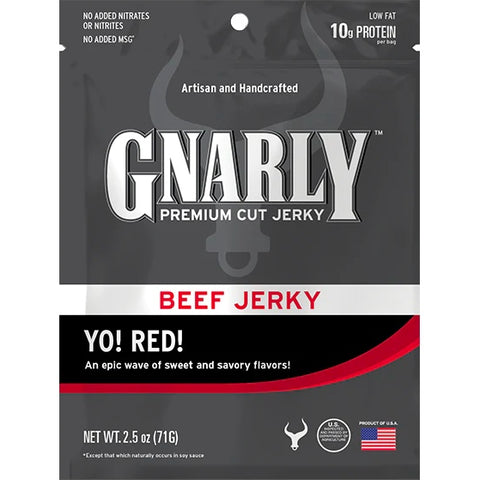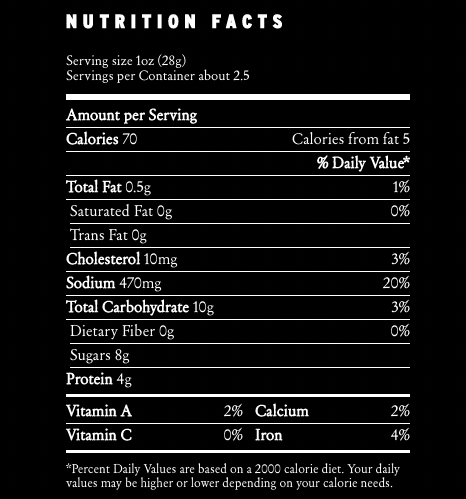 Gnarly Jerky
Gnarly Jerky Yo! Red! Beef Jerky, 2.5-oz
Gnarly Jerky Yo! Red! Beef Jerky gives you the full Sunday dinner experience, right in a 2.5-oz bag. This beef jerky is a savory combination of spicy and sticky, with a mouth-watering flavor that captures the essence of grandma's spareribs. Enjoy a taste of home, anytime.
Nutritional information
Ingredients: Beef, teriyaki sauce (soy sauce (water, wheat, soybeans, salt), wine, high fructose corn syrup, water, vinegar, salt, spices, onion powder, succinic acid, garlic powder, sodium benzoate: less than 1/10 of 1% as a preservative.), brown sugar, ketchup (tomato concentrate from red ripe tomatoes, distilled vinegar, high fructose corn syrup, salt, spices, onion powder, natural flavoring), pineapple juice (ascorbic acid (vitamin c), vitamin e, & vitamin a), balsamic vinegar (wine vinegar, concentrated grape must, boiled grape must, caramel coloring, potassium metabisul­te as a preservative), garlic salt, dried serrano peppers, onion powder, chili flakes.
Contains: Wheat & Soy
Package size: 2.5-oz