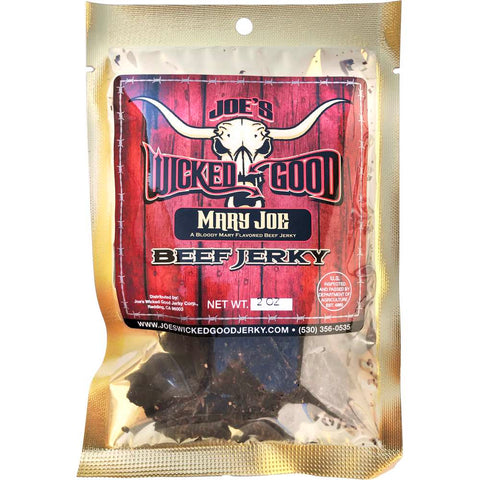 Joe's Wicked Good Beef Jerky
Joe's Wicked Good Mary Joe Beef Jerky - Bloody Mary Flavored Jerky, 2.8-oz
Joe has been making jerky for over 20 years and finally decided to share it with the world in 2015. Loaded with flavor and chews like a real steak thanks to decades of perfection. This jerky is flooded with bloody mary flavor that finishes with a crisp celery finish. A one-of-a-kind jerky experience that you can't miss!
Nutritional information
Ingredients: Beef marinade (soy sauce [water, wheat, soybeans, salt], rehydrated onions, garlic, caramel, vinegar, apple juice concentrate, carrots, celery, cabbage, parsley, turnips, parsnips, natural flavors, spices, citric acid, malic acid), marinade (soy sauce [water, wheat, soybeans, salt], sugar, high fructose corn syrup, mirin [rice, alcohol, salt], lactic and succinic acids], water, dehydrated garlic, spice, modified corn starch, sunflower oil), soy sauce (water, wheat, soybeans, salt), spices, Worcestershire sauce (distilled white vinegar, molasses, sugar, water, salt, onions, anchovies, garlic, cloves, tamarind extract, natural flavorings, chili pepper extract), hot sauce (distilled vinegar, red pepper, salt), pepper, celery powder, seasoning (celery salt [salt, celery seed], spices [including red pepper, black pepper], and paprika).
Contains: Wheat and soybeans
Package size: 2.8-oz
Good flavor but...
It was good flavor but just so much spicy I couldn't handle it. If you're into spicy this would be good for you. But it's not for me sadly.
Best Ever!
I love this beef jerky!! It is the best flavor ever! ❤
Hello Felicia! Thanks for taking the time to review Joe's Wicked Good Mary Joe Beef Jerky. Glad to hear you loved this bag of beef jerky! We agree the bloody mary flavor tastes incredible. The meaty texture and quality of the beef is very good too. Can't wait for you to try more! Thanks again for your review. Have a nice day! - JerkyGent Team
5-Star ... Excellent
5-Star ... Excellent
Different flavor ... Awesome!
Not quite my cup of tea
Pretty good, just a little odd in my opinion. The flavor concept seems sound, so maybe you'll like it. It's just not for me.