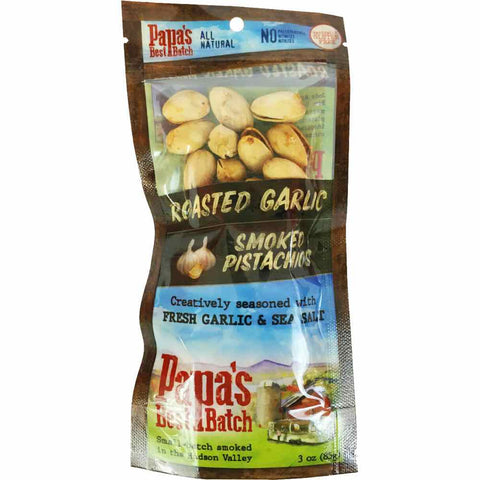 Papa's Best Batch
Papa's Best Batch Roasted Garlic Smoked Pistachios, 3.0-oz
Papa's Roasted Garlic Smoked Pistachios are marinated in fresh garlic, cider vinegar and just a touch of sea salt. Then they spend six hours in the smoker, roasting the pistachios and garlic for a delicious and smoky flavor!
Creatively seasoned in small batches.
Hand-smoked over local applewood in the heart of Hudson Valley, NY.
Gluten free and contain no artificial ingredients.
Papa's only uses Non-GMO California Pistachios.
Nutritional information
Ingredients: Pistachios, Fresh Garlic, Cider Vinegar, Sea Salt.
Package size: 3.0-oz