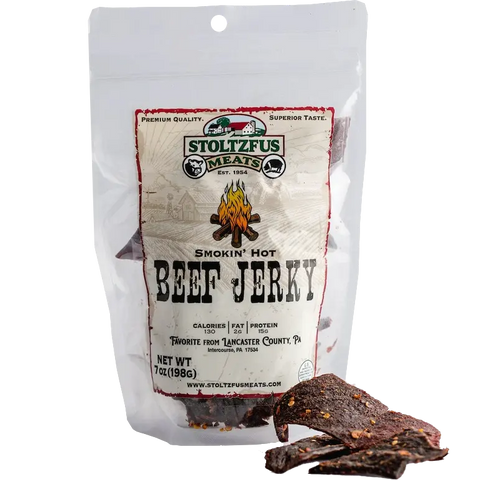 Stoltzfus Meats
Stoltzfus Meats Smokin' Hot Beef Jerky, 3.0-oz
Bring the heat with Stoltzfus Meats Smokin' Hot Beef Jerky! This 3.0-oz package is loaded with Carolina Reaper and Ghost Pepper to make sure you feel the burn. If you crave scorching flavors, this jerky is for you!
Nutritional information
Ingredients: Beef, La Choy Soy (water, salt, hydrolyzed soy protein, corn syrup, caramel color, potassium sorbate), fructose, black pepper, garlic powder, cayenne pepper, allspice, water, liquid smoke (water, natural hickory smoke flavor, vinegar, molasses, caramel color, and salt), red pepper, Carolina Reaper.
Contains: Soy
Package size: 3.0-oz