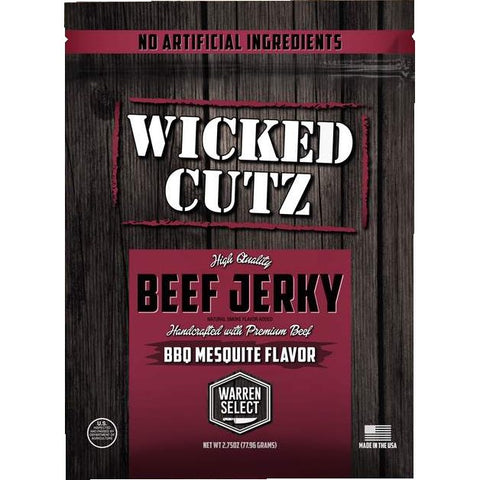 Wicked Cutz
Wicked Cutz BBQ Mesquite Premium Beef Jerky, 2.75-oz
A meaty steak-like texture that delivers a sweet and heavy Kansas City BBQ flavor. Bold on the seasonings with a slight kick for a delicious zing to finish it off. One of our favorite BBQ styled jerkies on the market. You've got to try this one!
Nutritional information
Ingredients: Beef, brown sugar, soy sauce, tomato sauce, white vinegar, mesquite smoke, granulated onion, granulated garlic, ground pepper, cayenne, cumin
Package size: 2.75-oz
Tender chew & great flavor
I need to avoid jerky that is stringy or tough due to swallowing issues.
In my quest for tender, easy chewing / swallowing jerky, this has been the best so far.
Bonus that it has great flavor.
Best Jerky I bought!!!
My doctor says I can have beef jerky or protein every two hours to help my system recover. I tried five and out of them this was the best tasting jerky of the so called top soft jerky options. Worth the purchase
Hi Solomon! Thanks for reviewing Wicked Cutz BBQ Mesquite Beef Jerky. Happy to hear it was one of your favorites and you loved the super tender texture! Looking forward to sending you more in the future. Happy chewing! - JerkyGent Team