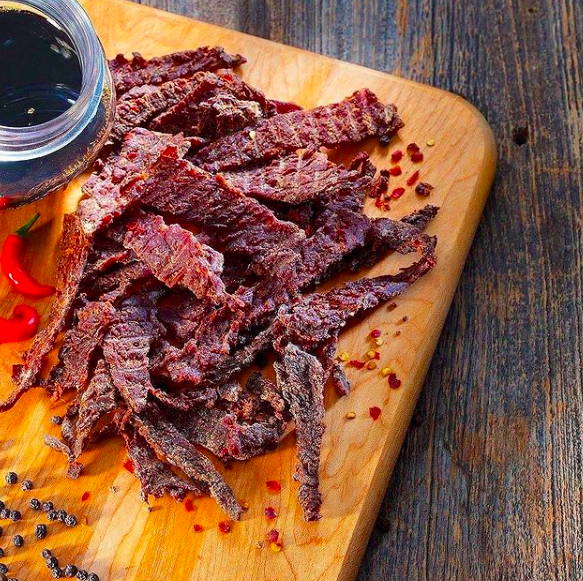 Looking for the best low fat beef jerky? Not only is beef jerky low in fat, but it's low in calories, high in protein, and packed with delicious flavor! Below is a list of 10 of the best low fat beef jerky flavors. 
10 Of The Best Low Fat Beef Jerky Flavors
1. Derby City Bourbon BArrel Wood Smoked 
Tender, flavorful, and oh-so-delicious! With only 3.5g of fat and only 180 calories per bag, you'll quickly find this beef jerky to be your new favorite low fat snack. The beef jerky is slow smoked over Kentucky bourbon barrels - giving it a great-tasting smoky taste. Find out more here.
2. Baja Street Taco Beef Jerky
For a kick of zesty flavor, you've got to try Baja Jerky's Street Taco beef jerky. It's coated in a delicious blend of cilantro, onion, garlic, and chili pepper. Also, it's low in fat at only 1.5g and only 60 calories per serving. It's a little spicy and downright delicious. It's also packed with protein at 11g per serving. Check it out! 
3. Field Trip Everything Bagel Beef Jerky 
YES - this beef jerky really is loaded with everything bagel seasoning. It's very unique... and very good! The best part? This bag of jerky only has 2g of fat, gluten-free, and made with zero preservatives. It has a tender texture and bursting with onion, garlic, sesame, and poppy seed flavors. You can grab a bag here!
4. ChudaBeef Hawaiian Beef Jerky
Savor the taste of the Hawaiian islands! Rated 5-stars for both taste and texture. Featuring premium beef with a sweet blend of pineapple and orange juice to create a nice Hawaiian BBQ flavor. Only 2g of fat, 5g of sugar, gluten-free, need we say more? Stock up today!
5. Cattaneo Bros. Chili Cayenne Beef Jerky
Love a good spicy jerky? With only 1g of fat, Cattaneo Bros. delivers a premium bag of spicy beef jerky. Using thick-cut slices of the highest-quality top round beef, your tastebuds will thank you for savoring this hardy and spicy snack. Learn more here.
6. Roy Rogers Filet Mignon Beef Jerky
Who can pass up a bag of filet mignon beef jerky?! This beef jerky highlights the melt-in-the-mouth texture of tender filet mignon and the traditional mild taste. You can order a bag here (or maybe 3). 
7. Topanga's Finest Orange Honey Teriyaki 
If you like teriyaki beef jerky, than you've got to try Topanga's Finest Orange Honey Teriyaki Beef Jerky.  It's a new twist on traditional teriyaki and is both sweet and satisfying. Plus, it's low fat, gluten-free, and contains only natural ingredients. They also carry more great low fat flavors. Find more flavors here.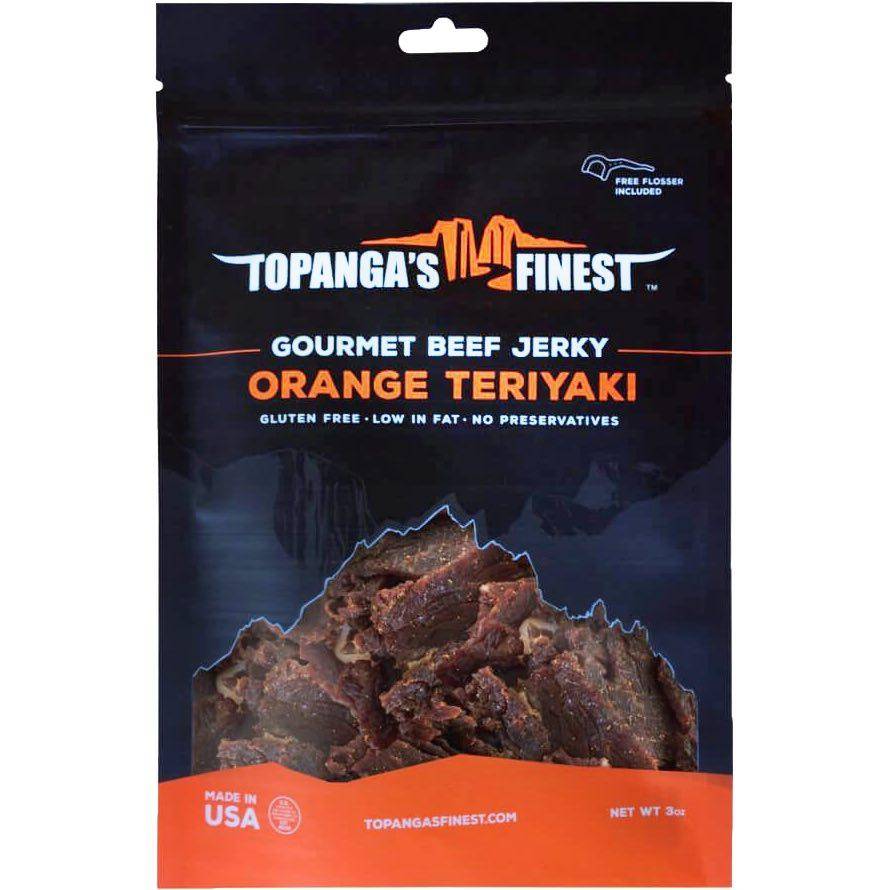 8. Fusion Hickory BBQ Beef Jerky 
Craving something more savory? Prepare to savor these super tender beef rounds marinated in a smoky hickory bbq sauce. Snack guilt free with only 2g of total fat. As reviewed by a customer, "I loveeee this one so much! Very tender with a hickory BBQ taste. Sooo good. Will be ordering more of this." Order a bag today and try it for yourself. 
9. Johnny Mac's Sizzilin Tri Tip Beef Jerky 
Tri-tip bbq beef jerky? Yes, please! With only 1g of fat, this spicy tri-tip beef jerky is low-fat, has a tough texture, and offers a nice medium heat. Trust us, these large slices of tri-tip will keep you coming back for more. Check it out. 
10. Jerky's Gourmet Ghost pepper Beef Jerky
Turn up the spice level a few more notches with Jerky's Gourmet Ghost Pepper Beef Jerky. This extremely hot beef jerky will require you to have a glass of water or milk near by. Low in total fat with only 1g and loaded with some of the hottest peppers on earth. Are you up for the challenge?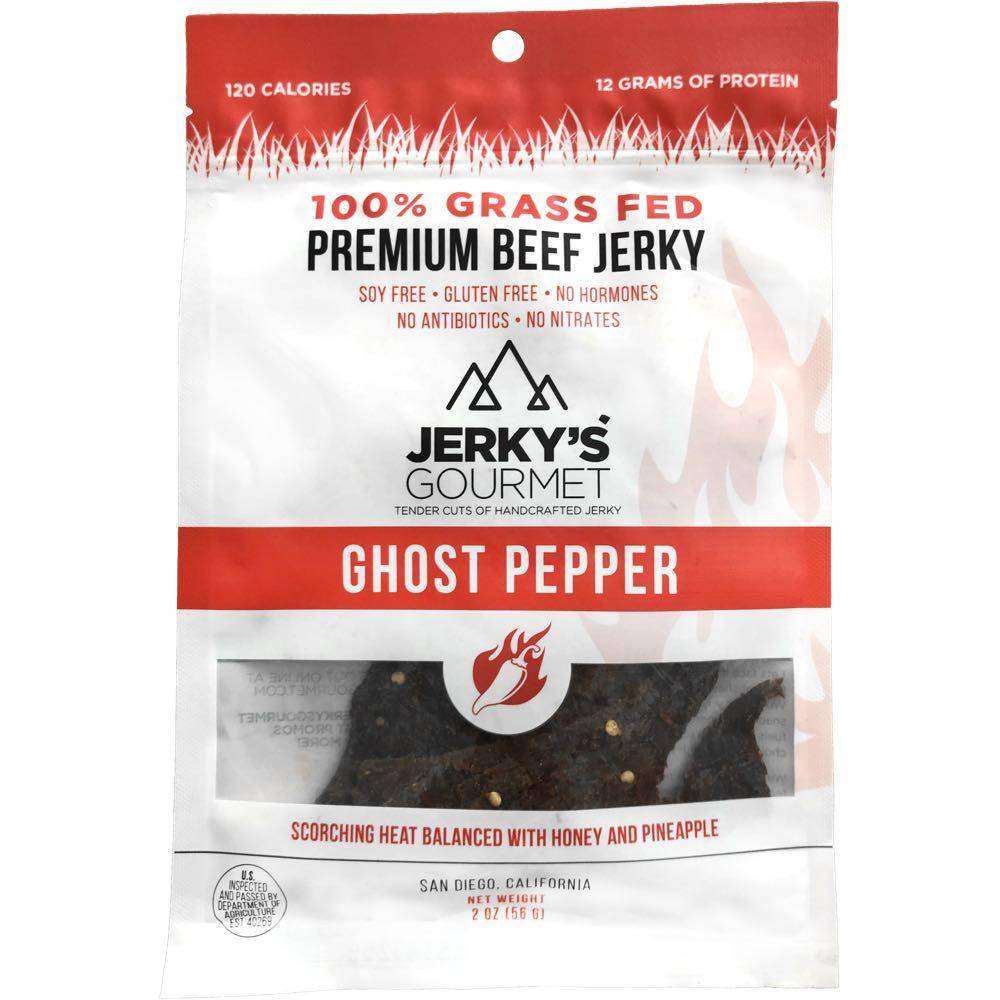 Interested in trying more low fat beef jerky flavors? Browse our online shop and pick from over 150 great-tasting beef jerky brands and flavors. Also, let us know your favorite low fat beef jerky flavors in the comments below!