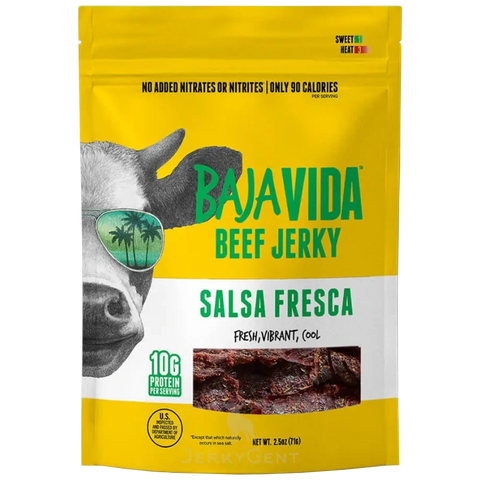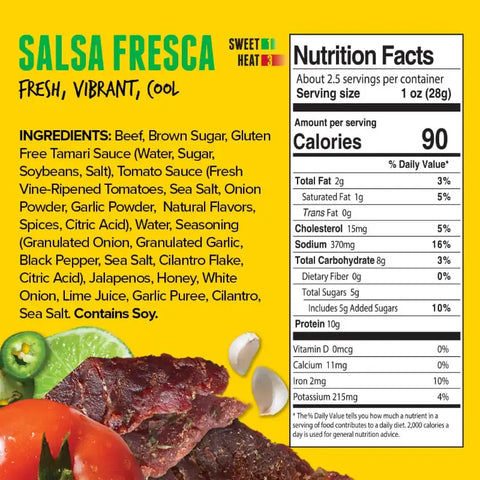 Baja Jerky
Baja Vida Jerky Salsa Fresca Beef Jerky, 2.5-oz
The most popular flavor of Baja Vida Jerky! It's bursting with fresh flavor. Made with cilantro, onion, and tomatoes taken right out of a fresh jar of salsa from an authentic Mexican dish. Most say it's extremely eatable, vibrant, and mild! 
No preservatives 
Gluten-free
No added MSG
No nitrates or nitrites
No added hormones
Nutritional information
Ingredients: Beef, brown sugar, tamari sauce (water, soybeans, salt, sugar), tomato sauce (fresh vine ripened tomatoes, sea salt, onion powder, garlic powder, natural flavors, spices, citric acid), water, jalapenos, honey, white onions, granulated garlic, granulated onion, dried cilantro, citric acid, ground pepper, lime juice, garlic puree, cilantro, sea salt, turmeric, tamarind, cardamom, avocado powder.
Contains: Soy
Package size: 2.5-oz
Fresh, Vibrant, Cool
They describe it very well on their own. Flavor is unique and fantastic, texture is very good, my only knock on it is it has a chalky mouth feel while chewing that also lingers for a few minutes but I will definitely buy more for myself and give as a gift to anyone who prefers a milder flavor.
Delicious
Probably the best flavored jerky I've ever had!
Was good
I liked this jerky but it's not my favorite. I honestly enjoyed the churro flavor by them more.
Hi Simone! Thanks for taking the time to review Baja Jerky's Salsa Fresca flavor. Glad you enjoyed it, but hopefully you find another favorite flavor soon. We look forward to you trying more delicious jerky brands. Thanks again for the review. Happy chewing! - JerkyGent Team
Damn good jerky.
The Salsa Fresca jerky by Baja Jerky is seriously good. This has been one of the best out of any of the boxes I've received and is definitely on my favorites list.
Hey Luke! Thanks for taking the time to leave a review. Glad to hear you enjoyed Baja Jerky's Salsa Fresca flavor. We appreciate your feedback on this one. It's one of our favorites as well! - JerkyGent Team
Super interesting and delicious
Really flavorful and great texture. Was definitely sweeter than expected (and not as spicy) though.