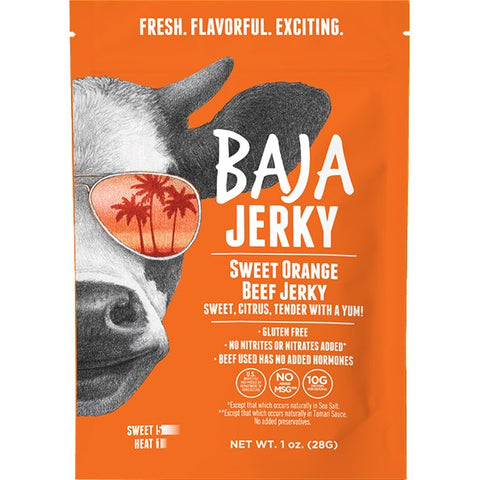 Baja Jerky
Baja Jerky Sweet Orange Beef Jerky, 2.5-oz
Perfect for a day at the beach. Tastes like teriyaki, but with a sweet and savory blast of citrus orange. A refreshing good taste, with a tender texture. This jerky will have you feeling like wanting more! 
Gluten free 
No added MSG
No preservatives 
No nitrites or nitrates 
10g of protein per serving
Nutritional information
Ingredients: Beef, brown sugar, tamari sauce (water, soybeans, salt, sugar), rice vinegar, honey, pineapple juice (pineapple juice from concentrate [water, pineapple juice concentrate], ascorbic acid [vitamin c], vitamin e, vitamin a), granulated garlic, granulated onion, ginger, ground pepper, sesame oil, sea salt, orange extract (alcohol, water, orange oil), all spice, turmeric, tamarind, cardamom, avocado powder.
Contains: Soy
Package size: 2.5-oz
Unbelievable!
Wow! Baja is the very BEST jerky! Packed with flavor and so tender! Reasonably priced and easy to order online. I like how it comes in snack bags or large ones with a nice variety of flavors. The snack size makes it easy to have at work.
Sweet Orange Review
The mose tender, sweet and savory jerky I've ever had. Nearly finished the whole bag after the first bite.
Sweet orange jerky review
Most tender and sweet jerky I've ever had in my life. 10/10 would recommend.
Wow!
Love this orange jerky! Tender meat and great flavor...and I used to work at a quality beef jerky store.
Love it
So tender love the flavor