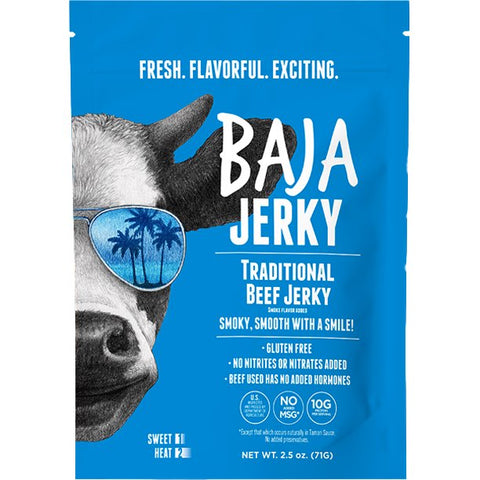 Baja Jerky
Baja Jerky Traditional Beef Jerky, 2.5-oz
For a flavorful traditional jerky, look no further than Baja Jerky. They claim to be the "world's most flavorful jerky." Their traditional flavor has a tender, smoky finish that's sure to make your mouth water. A classic jerky you simply can't resist! 
Gluten free
No preservatives
No nitrites or nitrates 
No added hormones 
No added MSG
10g of protein per serving
Nutritional information
Ingredients: Beef, tamari sauce (water, soybeans, salt, sugar), water, brown sugar, liquid hickory smoke, worcestershire sauce (distilled white vinegar, molasses, sugar, water, salt, onions, anchovies, garlic, cloves, tamarind extract, natural flavorings, chili pepper extract), lemon juice, granulated garlic, ground pepper, turmeric, tamarind, cardamom, avocado powder.
Contains: Soy and anchovies
Package size: 2.5-oz
TENDER AND TASTY
By far the best Jerky I have ever had at a very reasonable price. Don't settle for the overpriced cardboard like Jerky at the mini mart.
Eating Baja Jerky is like eating a fine marinated steak, if you don't believe me, try it for yourself!!!