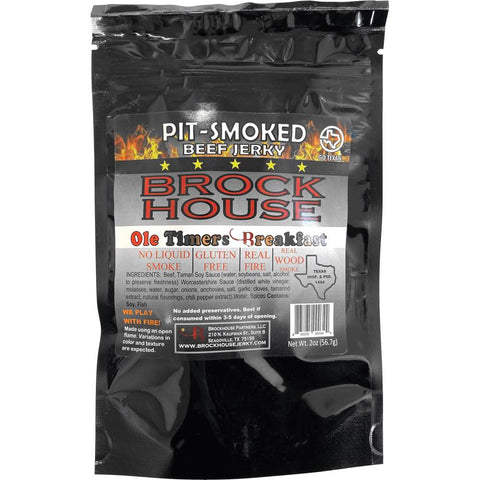 Brockhouse
Brockhouse Ole Timers Breakfast Beef Jerky, 2.0-oz
Who doesn't love the taste and smell of breakfast sausage in the morning? Ole Timers Breakfast delivers the perfect blend of good ol' country time spices and smoked hickory wood.
Nutritional information
Ingredients: Beef, tamari soy sauce (water, soybeans, salt, alcohol: to preserve freshness), Worcestershire sauce (distilled white vinegar, molasses, water, sugar, onions, anchovies, salt, garlic, cloves, tamarind extract, natural flavorings, chili pepper extract), water, and spices.
Contains: Soy, Fish
Package size: 2.0-oz
The product came to me with a day or two to go before expiration. The jerky was hard and impossible to eat. Would appreciate if I could get a new product.
Hey Evan, it appears that the expiration date on the product is July 23rd, 2022 (not January). This batch is actually super fresh! Hope that clears it up!