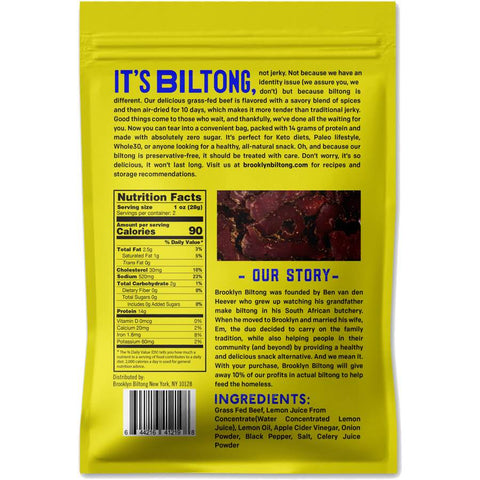 Brooklyn Biltong
Brooklyn Biltong Lemon Pepper Grass-Fed Biltong, 2.0-oz
South Africa's version of beef jerky, biltong, is marinated with spices and vinegar for maximum tenderness, and slowly dried to maintain ridiculous mouth-watering flavor. Brooklyn Biltong's Lemon Pepper delivers a clean and zesty biltong taste with some added onion for a full, delicious flavor!
Zero sugar
No corn syrup
No artificial preservatives
Paleo friendly
Whole30 approved
Nutritional information
Ingredients: Grass fed beef, water, apple cider vinegar, coriander, sea salt, allspice, black pepper, celery juice powder.
Package size: 2.0-oz