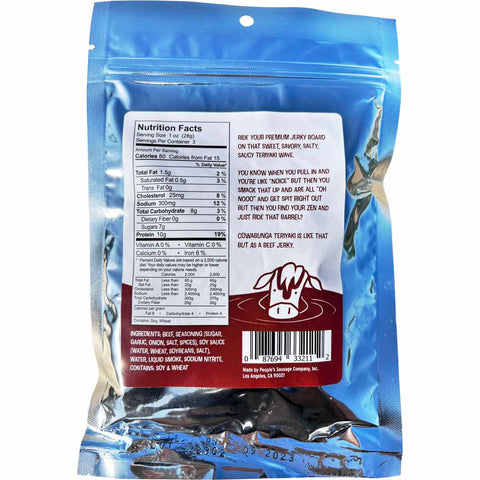 JerkyGent
Cowabunga Teriyaki Beef Jerky, 3.0-oz
Cowabunga! is the Hawaiian word for "surprising or wonderful" and this teriyaki beef jerky delivers just that! It's thick cut and flavorful making it a fantastic snack for on-the-go!
Nutritional information
Ingredients: Beef, seasoning (sugar, garlic, onion, salt, spices), soy sauce (water, wheat, soybeans, salt), water, liquid smoke, sodium nitrite.
Contains: Soy and wheat
Package size:
Jerky Candy
Very sweet (almost candied, like they sometimes do for bacon jerkies). A little crisp (with that kind of sweetening, you'd expect that.) but you probably won't mind. It's almost a bit less like a classic teriyaki jerky and more like a Chinese char siu one.
Teriyaki does not excite me…
But this is really good. Not overly sweet like most teriyaki jerky, allowing the salt and garlic to play it's part. Excellent amount of smoke flavor too. Texture starts out great but does end feeling stringy.