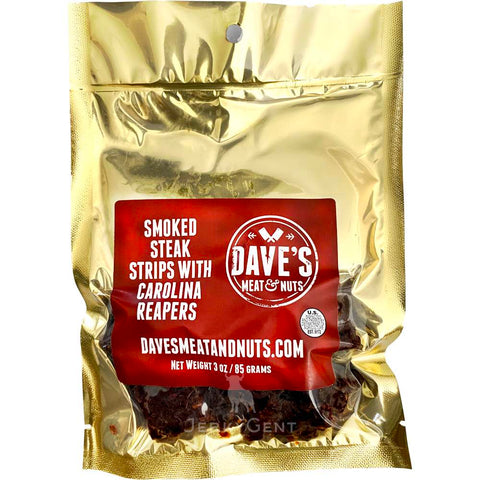 Dave's Meat & Nuts
Dave's Meat & Nuts Carolina Reaper Smoked Steak Strips, 3.0-oz
Beware jerky lovers! Carolina Reapers are the hottest Chili Pepper on the planet! This jerky is for the 1% of the 1% who are brave enough for this kind of heat. Eat at your own risk and wash your hands after eating!
Nutritional information
Ingredients: Beef, brown sugar, salt, contains 2% or less of the following: crushed red chilis, cayenne pepper, jalapeno peppers, carolina pepper, dried maple syrup ( dextrose, natural maple flavor) celery powder, spices, garlic, onion, lactic acid culture
Package size: 3.0-oz
One of the spiciest yet!
Very tender. More than all the rest, almost moist. Extreme heat won't disappoint. Might be the spiciest have tried even.