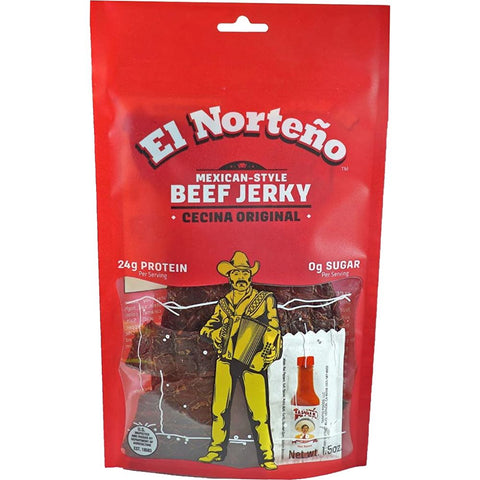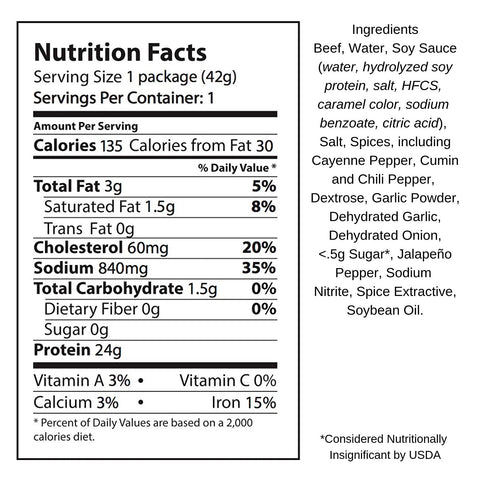 El Norteño
El Norteño Mexican-Style Cecina Original Beef Jerky, 1.5-oz
Inspired by traditional Mexican Cecina, this jerky is thinly-sliced and air-dried to create flavorful sheets of 100% beef. Add a couple drops of the included Tapatio hot sauce packet to spice it up!
24g Protein

0g Sugar

Hot sauce packet included
Nutritional information
Ingredients: Beef, water, soy sauce (water, hydrolyzed soy protein, salt, HFCS, caramel color, sodium benzoate, citric acid), salt, spices, including cayenne peppers, cumin, and cili pepper, dextrose, garlic powder, dehydrated garlic, dehydrated onion, <.5g sugar*, jalapeño pepper, sodium nitrate, spice extractive, soybean oil. *Considered nutritionally insignificant by USDA
1.5-oz
Package size:
Great!
I like that this jerky is dry but very flavorful even without the sauce. I don't use the sauce but it's great that it comes with a little packet of hot sauce if you want some more kick.
A favorite!
One of my all time favorite jerkies. Thin and dry and packed with flavor!
Hey Ian! Thanks for reviewing El Norteno's Original Beef Jerky. Happy to hear it's one of your favorite bags of jerky! We agree the jerky is packed with flavor. It does indeed have a thin and dry texture too. The packet of hot sauce included is a bonus. Thanks again for your feedback! Looking forward to you reviewing more jerky in the future. Have a good day! - JerkyGent Team