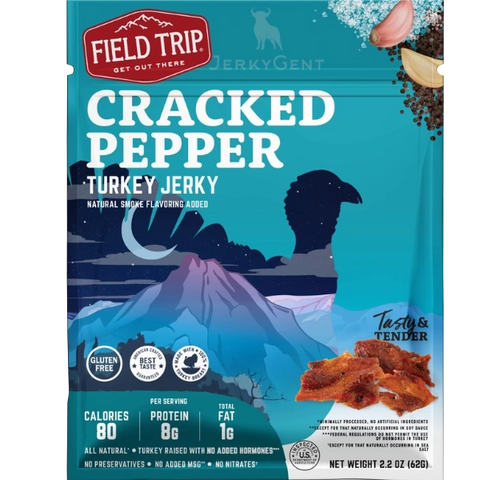 Field Trip
Field Trip Cracked Pepper All Natural Turkey Jerky, 2.2-oz
Upgrade your snack game with Field Trip Cracked Pepper All Natural Turkey Jerky - a piece of meat so big and yummy, it'll leave your taste buds in awe. With no added hormones, gluten, preservatives, or MSG, and delicious cracked pepper sprinkled throughout, this natural snack will have your friends asking "Where'd you get that delicious jerky?!" Be one of the cool kids and stock up on Field Trip Jerky!
Nutritional information
Ingredients: Turkey, brown sugar, gluten free reduced sodium soy sauce (water, soybeans, salt, alcohol), apple juice (water, concentrated apple juice, ascorbic acid (vitamin c)), water, pineapple juice (pineapple juice, ascorbic acid (vitamin c), vitamin e, vitamin a), sea salt, black pepper, natural hickory liquid smoke (water, natural hickory smoke flavor), apple cider vinegar, rice wine (rice, alcohol, salt, water), granulated garlic, granulated onion, ginger, white pepper.
Contains: Soy
Package size: 2.2-oz