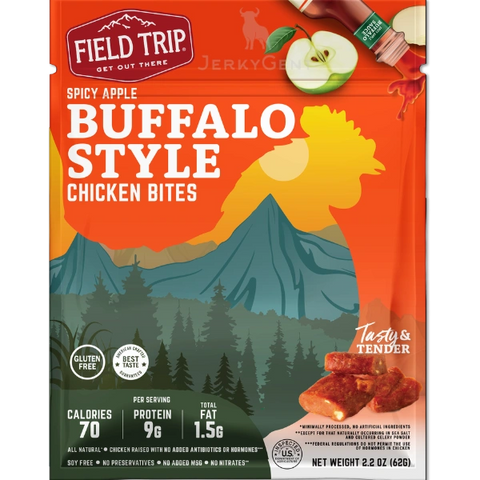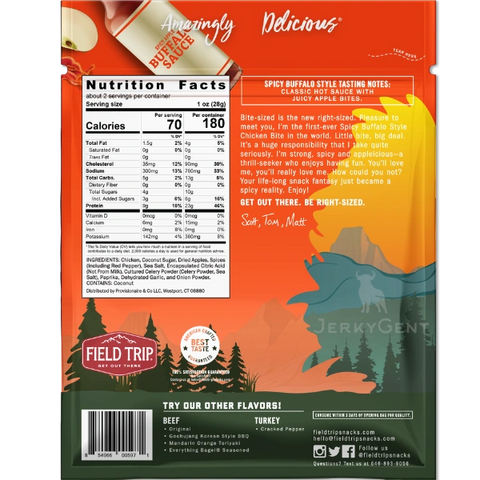 Field Trip
Field Trip Spicy Apple Buffalo Style Chicken Bites, 2.5-oz
Thick and juicy bites of spicy buffalo chicken, infused with bits of delicious apple for a subtle and sweet twist. A perfect snack for any buffalo chicken lover.
Gluten free
Soy free
No added MSG
No added antibiotics or hormones
Nutritional information
Ingredients: Chicken, coconut sugar, dried apples, spices (including red pepper), sea salt, encapsulated citric acid, cultured celery powder (celery powder, sea salt), paprika, dehydrated garlic, onion powder.
Package size: 2.5-oz
Are you looking for a new addiction
What a surprising burst of flavor! Wasn't too sure about buying this at first. Especially considering it isn't actually jerky. For a moment I thought the apple flavor might give it a weird taste but this was not at all the case. I was met with a spicy and impressive mix of flavors! These were for my brother... to his misfortune I ended up eating more than a fair share. Thankfully, Jerky Gent's shipping speed is second to none. Two more bags already on the way!
No risk, no reward. ;) This one is very tasty indeed. We take pride in offering fast shipping. Thanks for another awesome review!