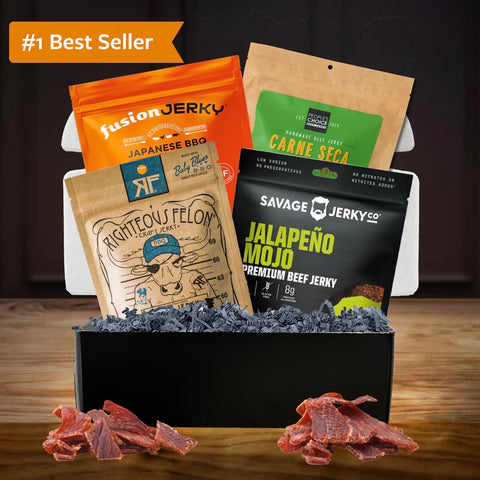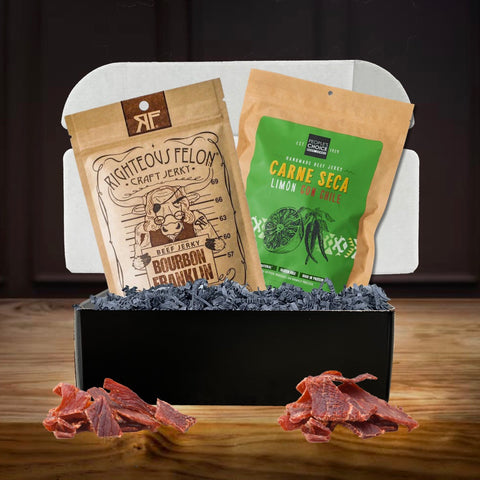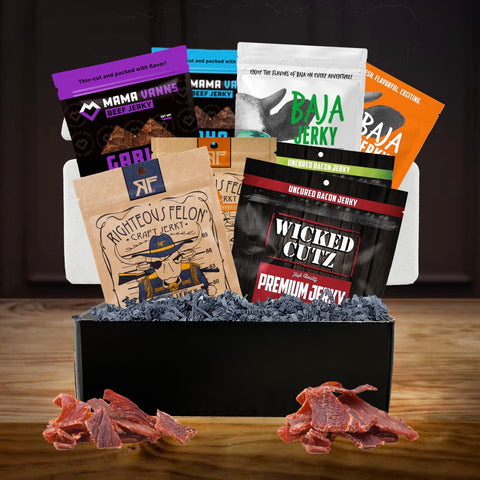 JerkyGent Beef Jerky Subscription Box - Monthly Jerky Club
$10 Off Your First Box
Use Code: JERKY10
Join Our Award-Winning, Jerky Of The Month Club!
Indulge in a premium snacking experience with the JerkyGent Beef Jerky Subscription Box. Each month, you'll get to try a curated selection of handcrafted, small-batch beef jerky from top jerky makers across the country. Savor an awesome assortment of mouthwatering flavors, from original to unique one-of-a-kind flavors, carefully packed into a stylish box that arrives at your doorstep. 
With flexible subscription options, you have the freedom to choose your preferred box size and delivery frequency. Whether you're a jerky aficionado or seeking a delightful gift for a loved one, the JerkyGent Beef Jerky Subscription Box is the ultimate treat. Elevate your snacking game and join the growing community of jerky enthusiasts today.
Expertly Curated. Deliciousness Guaranteed.
You love beef jerky, but let's face it – you wouldn't waste your time snacking on dull, tasteless jerky. With a JerkyGent subscription box, it's easy to discover and try the best-tasting craft jerky at home.
Hand-Picked To Your Taste And Spice Preferences
Whether you prefer spicy or mild jerky, you'll get to enjoy new brands and flavors every month based on your taste preference. Our experts know the difference between the merely average and the truly exceptional jerky, so your only job is to subscribe and enjoy!
No Commitments. Flexible Deliveries.
Pick the frequency that works best for you. Skip a month whenever you'd like. Cancel your subscription at anytime.
Some Of The Flavors You'll Get To Try!










Access to Member Only Deals
Stock up and save BIG! Amazing discounts (only for JerkyGent Members) in every monthly box!
Earn Awesome Rewards
Get 5 BEEF BUCKS for every dollar spent, plus JerkyGent Club Members are rewarded more with 50 bonus BEEF BUCKS per month! That'll get you some cool gear from JerkyGent T-Shirts to YETI Tumblers!
JerkyGent Mini - Beef Jerky Subscription Box - 2 Bags Per Month
Would love to see some California dry style
Good variety
I was happy with all the different flavored jerky's I received. Can't wait for my next box!
LOVE JerkyGent!
I've been a JerkyGent customer for several years and can't recommend them enough! They ship immediately and have an awesome variety of fresh jerky every month. I gave the subscription as a gift as well and it was well received!
Quality
The quality of every service packing to shipping and to my front door are all excellent the flavor is amazing the cheese steak one not too great but every other one is just the perfect amount of tenderness
Frequently asked questions
Your first box will ship within 1 business day. The monthly boxes to follow will renew on the 10th of each month and will ship within 3 business days.
What typically comes with each heat level selection?
Mostly Mild - All mild flavors with the occasional medium spiced jerky.
Try Them All - Our preferred selection! Typically one hot flavor and a mix of mild/medium. Nothing extremely hot!
Mostly Hot - Typically one extreme heat and a mix of hot jerkies. Occasionally one mild/medium.
Can I change my heat level and order frequency?
Yes, you can change your flavor and order frequency at any time by logging into your account at JerkyGent.com.