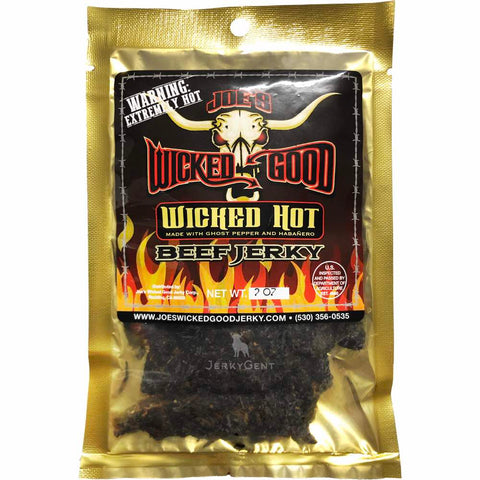 Joe's Wicked Good Beef Jerky
Joe's Wicked Good Beef Jerky Wicked Hot, 2.8-oz
Perfect for spicy jerky fanatics. Made with fresh habaneros and ghost pepper chilis, this jerky is packed with great flavor, but it's extremely spicy. Make sure you keep a glass of milk or water near by, because you're going to need it! 
Joe's Wicked Good Jerky is a small business from Redding, CA producing top-quality jerky packed with wickedly good flavors.
Nutritional information
Ingredients: Beef, marinade (soy sauce, water, wheat, soybeans, salt, sodium benzoate: less than 0.1% to preserve freshness), rehydrated onions, garlic, caramel vinegar, apple juice concentrate, carrots, celery, cabbage, parsley, turnips, parsnips, natural flavors, spices, citric acid, marinade (soy sauce), sugar, high fructose corn syrup, mirin (rice, alcohol, enzymes, salt), water, contains less than 2% of modified corn starch, dehydrated garlic, pineapple juice, ghost seasoning (brown sugar, sugar, spice, dehydrated garlic, natural flavors, maltodextrin, dextrose, ghost pepper, not more than 2% silicon dioxide added), habanero powder.
Contains: Wheat and soybeans
Package size: 2.8-oz
It's ok
It is really spicy which we like, but also has quite a sweet flavor as well. Not sure I would purchase again.
Hi Alyson! Thank you for taking the time to review Joe's Wicked Hot Beef Jerky. Sorry to hear the jerky didn't 'meat' your expectations and was a bit too sweet. We're looking forward to you trying more spicy flavors of jerky. We just added a couple new flavors to our online shop. Hopefully you'll find a new favorite soon! Happy chewing! - JerkyGent Team
4-Star ... Very Good
4-Star ... Very Good
As advertised