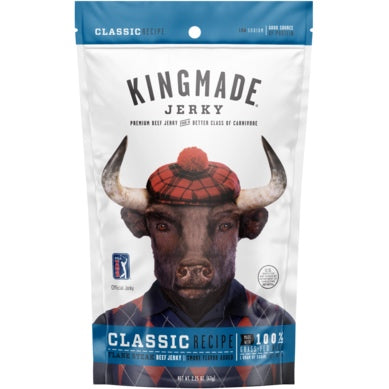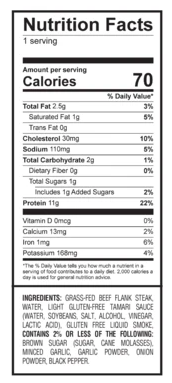 Kingmade Jerky
Kingmade Jerky Classic Recipe Flank Steak Beef Jerky, 2.25-oz
Kingmade's Classic Recipe is made using top quality, grass-fed, tender cuts of beef flank steak. Perfectly seasoned in a blend of steakhouse spices and brown sugar before slow cooking to perfection. 
Gluten free
No nitrites added
All-natural
100% grass-fed beef
Low sodium
Nutritional information
Ingredients: Grass-fed beef flank steak, water, light gluten-free tamari sauce (water, soybeans, salt, alcohol, vinegar, lactic acid), gluten-free liquid smoke, brown sugar (sugar, cane molasses), minced garlic, garlic powder, onion powder, black pepper.
Package size: 2.25-oz
It's okay
It was very chewy. I don't think it's worth the money.
Kingmade Jerky Classic Recipe Flank Steak Beef
Yum. Will be looking for something less dry next time. Maybe a little more
thick.