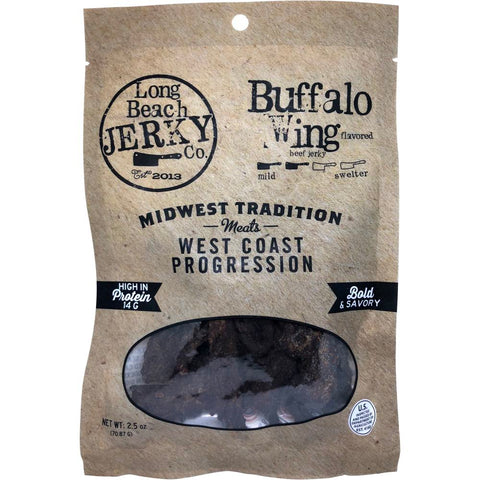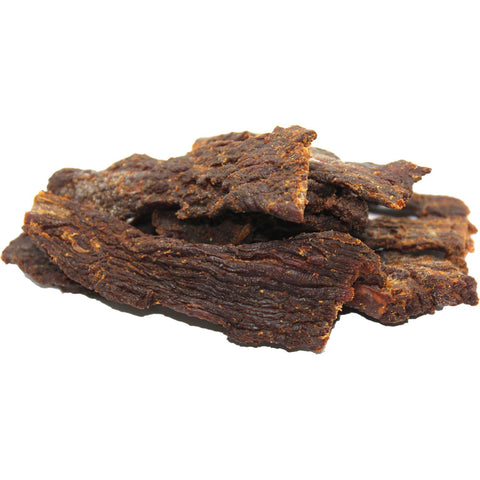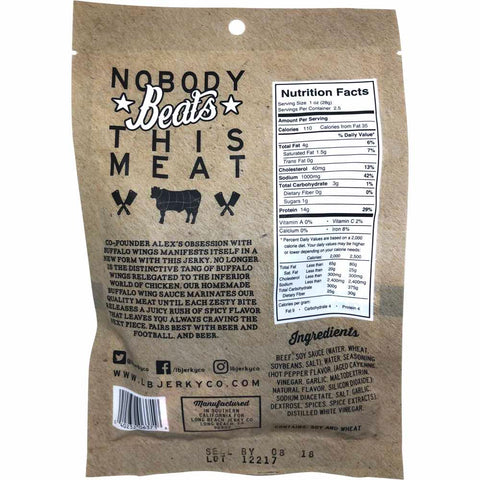 Long Beach Jerky Co.
Long Beach Jerky Co. Buffalo Wing Beef Jerky, 2.5-oz
Long Beach Jerky Co's Buffalo Wing flavored beef jerky is made from only top quality brisket and is marinated in a homemade buffalo wing sauce. A tangy, zesty, buffalo wing experience that lingers on the lips, gently sizzling for a bit. Break out the blue cheese and celery.
Nutritional information
Ingredients: Beef, soy sauce (water, wheat, soybeans, salt), water, seasoning (hot pepper flavor (aged cayenne, vinegar, garlic, maltodextrin, natural flavor, silicon dioxide), sodium diacetate, salt, garlic, dextrose, spices, spice extracts), distilled white vinegar.
Contains: Soy and Wheat
Package size: 2.5-oz
Heat Level:
0 - Mild
10 - Extremely Hot
Long Beach Jerky
Best Jerky so far - Gramps, Teriyaki, and Buffalo Wing - all great taste, great texture.
My "go to" Jerky
Excellent. Consistently great and fresh flavor My fifth or sixth bulk purchase. Well balanced spice and meaty flavor and never a hint of sweetness which I dislike. One of the best I have ever tried.
Found!
Over the course of a lifetime of consuming beef jerky in search of "The One". I found it! By accident. My daughter gifted me a Jerky Gent of the month membership and much to my grateful surprise! Bam! This is my absolute favorite. It was worth the 64 year wait.
Awesome
Great flavor - my favorite so far - been getting boxes for about 5 months and this one stands out. Well done!
Favorite So Far
I've been a JerkyGent subscriber for 5 months now, and this is definitely my favorite. I'm a huge buffalo wing snob and this was the best of both worlds, buffalo wings and jerky. Simply amazing.