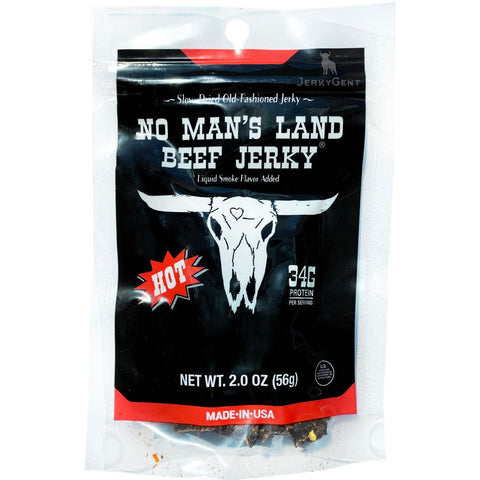 No Man's Land
No Man's Land Old-Fashioned Beef Jerky Hot, 2.0-oz
No Man's Land took their original flavor and cranked up the heat! A tolerable amount of heat that doesn't overpower the delicious beefy taste.
For over 20 years, No Man's Land has been crafting their jerky the old fashioned way - slow dried and never cooked. This process retains more of the meaty goodness without adding any fillers for a hearty and savory bite!
Nutritional information
Ingredients: Beef, soy sauce (water, salt, hydrolyzed soy protein, corn syrup, caramel color, potassium sorbate (preservative)), liquid smoke (water, natural hickory smoke flavor), water, honey, spices, & flavorings.
Contains: Soy
Package size: 2.0-oz
always will be my favorite
i love no mans land. I already knew i liked it, i was hunting for it and saw your great prices so i bought as much as i could afford thank you!
Some of the greatest jerky I have ever had
Just got some of the hot jerky I will definitely be buying alot more of this jerky very good product
New Favorite
Delicious with all the right flavors and a very tolerable bite as far as heat is concerned
Hi Kayla! Thanks for reviewing No Man's Land Old-Fashioned Hot Beef Jerky. Happy to hear the jerky tasted good. It has a tougher texture and it's very popular with spicy lovers. Thanks again for reviewing the jerky. We look forward to you trying more spicy brands and flavors. Happy chewing! - JerkyGent Team