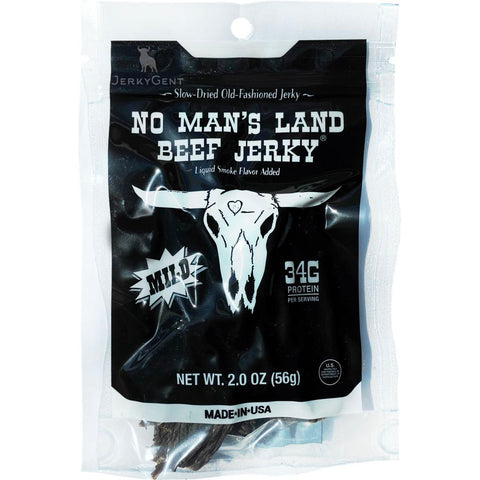 No Man's Land
No Man's Land Old-Fashioned Beef Jerky Mild, 2.0-oz
For over 20 years, No Man's Land has been crafting their jerky the old fashioned way - slow dried and never cooked. This process retains more of the meaty goodness without adding any fillers for a hearty and savory bite!
Nutritional information
Ingredients: Beef, soy sauce (water, salt, hydrolyzed soy protein, corn syrup, caramel color, potassium sorbate (preservative)), liquid smoke (water, natural hickory smoke flavor), water, honey, spices, & flavorings.
Contains: Soy
Package size: 2.0-oz
Jerky
As good as I have ever eat and wife loved it to
No Man's Land Beef Jerky
No man's mild beef jerky is by far the best beef jerky I've ever had next to a local deli here in Tucson, AZ, called Dickman's Meat and Deli. The deli I go to used to make homemade beef jerky for $20 a pound but unfortunately they no longer make it. I found No man's land jerky about a month ago and it tastes just like the homemade one I've been missing from the deli. If you love beef jerky this is a have to try. You will not regret it. It's hands down absolutely the best packaged beef jerky on the market today I will never buy any other brand now that I found no man's land. A+ !! Bravo to No Man's Land for making the most delicious beef jerky ever Thank you thank you thank you!! I just can't get enough of it.
DAMN GOOD
Normally I don't eat beef jerky but I decided to try NML mild today. Not like anything I have consumed before. It is really good. Great flavor. I'll be buying some more very soon. Try it!
AB
Jerky lover
Mighty tasty and smoked just right totally awesome
Love it!
Great beef jerky! Every flavor has been enjoyable. Quick shipping too!