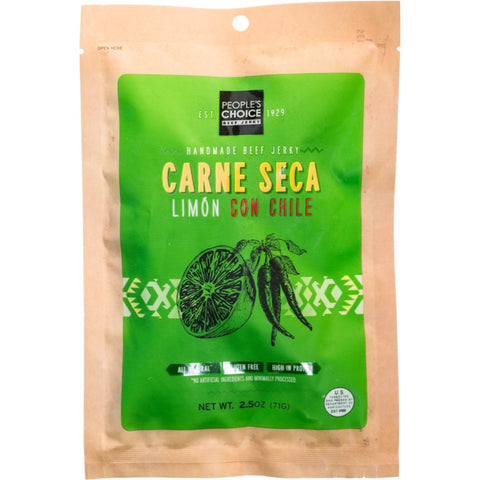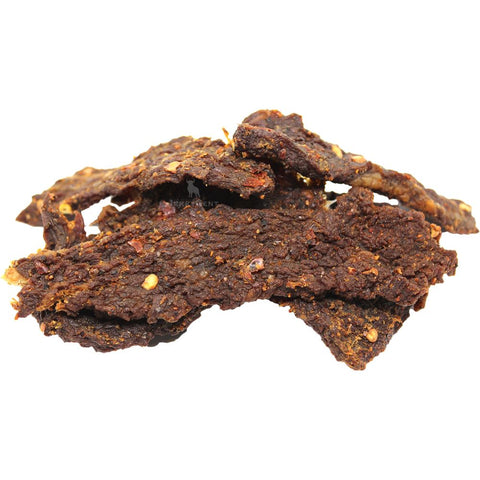 People's Choice
People's Choice Carne Seca Limon Con Chile Handcrafted Beef Jerky, 2.5-oz
People's Choice features all natural ingredients and a simplified process to showcase the deliciousness of traditional Carne Seca.
All natural
Gluten free
High in protein
No preservatives
No artificial ingredients
Minimally processed
Nutritional information
Ingredients: Beef, water, seasoning (sea salt, guajillo chili powder, spices, cracked red pepper, garlic powder), lemon concentrate.
Package size: 2.5-oz
Fantastic
One of the best out there , I buy jerky from all over this is very good
Hey Marc! Thanks for reviewing People's Choice Carne Seca Beef Jerky. Glad to hear you loved the flavor. It's one of our favorite flavors as well. Looking forward to you trying more delicious jerky. Thanks again for your review. We appreciate hearing feedback from customers like you. Happy chewing! - JerkyGent Team
Good flavor, odd texture
The flavor of this was good, maybe not great. What threw me off a little was the texture; it was really dry, but also somehow "fatty" at the same time. Maybe you'll like it.
One of my faves!
This flavor I originally got in my first subscription box, loved the flavor and little bit of heat. Went and bought more of it. Delicious for sure