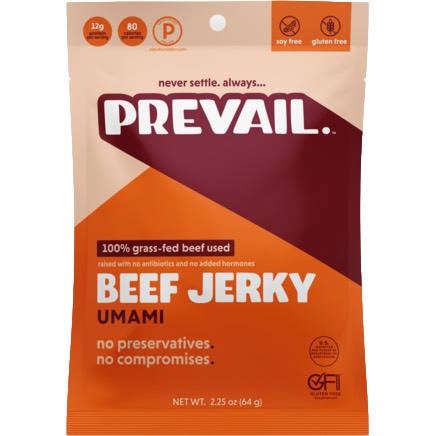 Prevail Jerky
Prevail Umami 100% Grass-Fed Beef Jerky, 2.25-oz
The secret 5th taste, Umami, drives a pleasant, savory bite that'll keep you digging for more! Prevail's special recipe includes unique ingredients like matcha and cardamom for a tender and tasty bite unlike any jerky you've tasted before.
Gluten free

Soy free

Paleo certified

No added nitrates or nitrites

Keto certified
Nutritional information
Ingredients: 100% grass-fed and grass-finished beef, water, organic orange juice, organic coconut sugar, organic coconut aminos (organic coconut sap, sea salt), organic coconut vinegar, sea salt, organic sesame oil, organic garlic, organic matcha tea, organic ginger, organic red pepper flakes.
Contains: Coconut and sesame
Package size: 2.25-oz
5-Star .. Excellent
5-Star .. Excellent
Super awesome, different flavor!