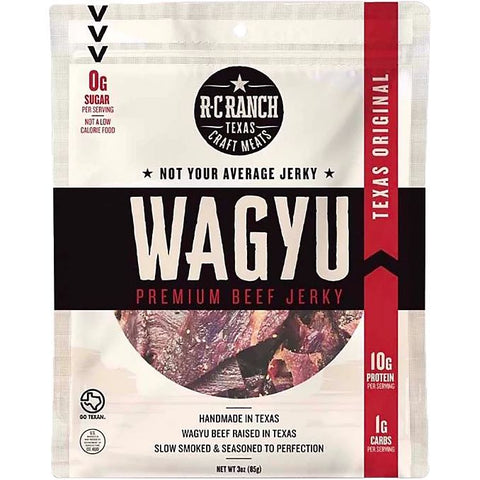 R-C Ranch
R-C Ranch Texas Original Zero Sugar Wagyu Beef Jerky, 3.0-oz
This Wagyu jerky is handmade in Texas, slow smoked, and bursting with robust flavor to satisfy every taste bud. R-C's meaty recipe highlights the special attributes of American Wagyu Beef for a treat that has a firm texture with a buttery smooth and tender bite!
Nutritional information
Ingredients: Wagyu beef, beef stock, natural flavorings, monosodium glutamate, vinegar, salt, sodium citrate, sodium nitrate.
Package size: 3.0-oz
finally found perfect jerky
i've been on a mission to find the perfect jerky and now i found it at my heb. tons of flavor, just right consistency. not too soft but not pull your teeth out hard. highly recommend
Defective product, the bag is empty
I mean, I JUST opened it.
Toughest Jerky Ever
Beef was so dry. Way too hard. I'm not sure if was suppose to be that tough. It felt like it was hella old. The expropriation was 12/2023. Must have gotten the old batch.