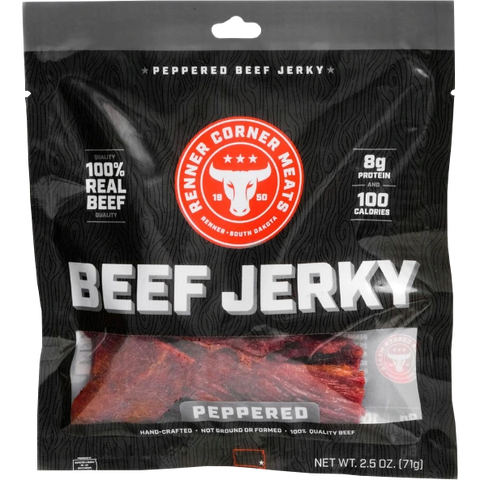 Renner Corner Meats
Renner Corner Meats Peppered Beef Jerky, 2.5-oz
Indulge in the savory delights of Renner Corner Meats Peppered Beef Jerky! Packed with top-notch protien and crafted from only the finest all-natural ingredients, this mouthwatering beef jerky is the perfect pick-me-up to get you through your day. Plus, with its distinct peppery flavor and 2.5-oz size, you get a delicious snack you can take anywhere - and zero sugar to boot!
Nutritional information
Ingredients: Beef, water, salt, sugar, hydrolyzed soy protein, spices, sodium erythorbate, spice extractives, sodium nitrate.
Contains: Soy
Package size: 2.5-oz