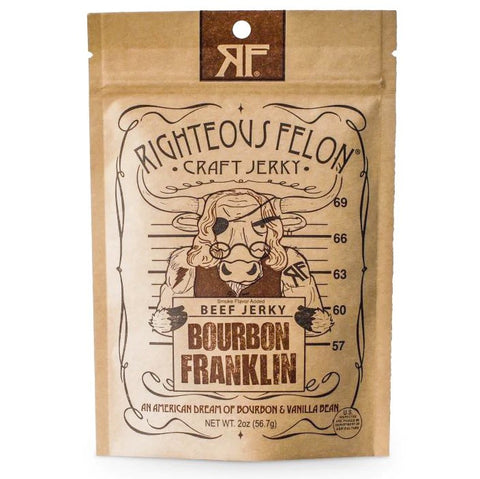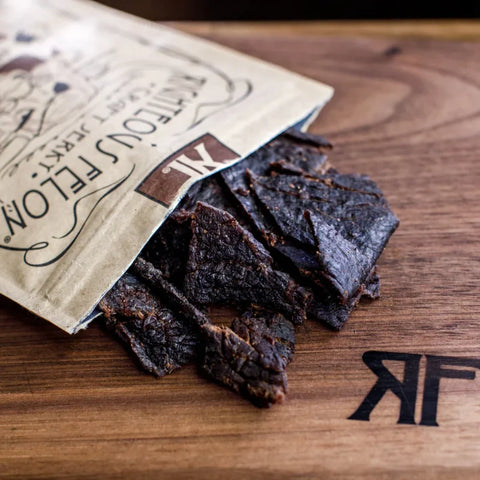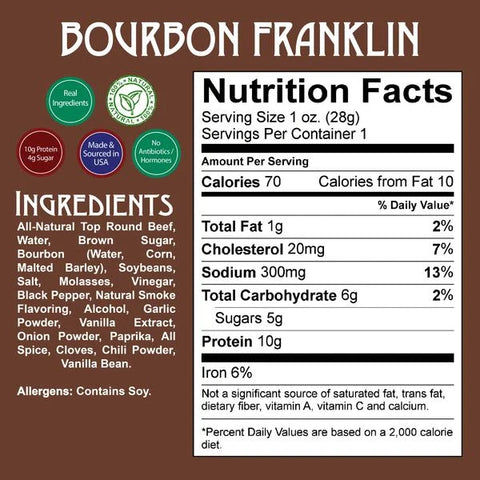 Righteous Felon
Righteous Felon Bourbon Franklin Beef Jerky, 2-oz
Bourbon Franklin takes Righteous Felon's original recipe, douses it in bourbon and adds a pinch of vanilla bean and cinnamon. An amazing flavor combination and a favorite among JerkyGent members.
Nutritional information
Ingredients: Beef, water, brown sugar, bourbon (water, corn, malted barley), soybeans, salt, molasses, vinegar, natural smoke flavoring, alcohol, garlic powder, vanilla extract, onion powder, black pepper, paprika, all spice, cloves, chili powder, vanilla bean.
Contains: Soy
Package size: 2.0-oz
Heat Level:
0 - Mild
10 - Extremely Hot
Bruey
Absolutely Delicious. Bourbon comes thru but not over powering.
Heat Level:
0 - Mild
10 - Extremely Hot
Ok
It was not our favorite. Very tough and a weird flavor. I don't know how to discribe it. The issue wasn't so much the flavor but it was super tough. If you like more tender jerky this is not something you will like.
Super good
Never had quality jerky like this before just the gas station stuff so this was almost life changing
Too sweet for me
Not my preference. The vanilla or something in the sweetness threw me off. Otherwise, tender.
Bourbon Franklin Beef Jerky/ Righteous Felon
Very good! I'm going to have to order some more soon