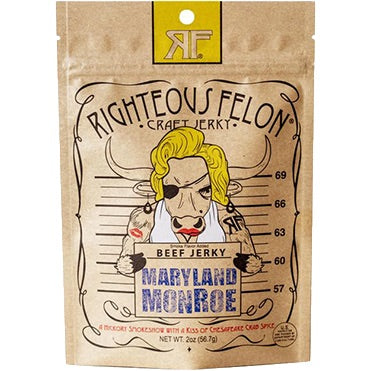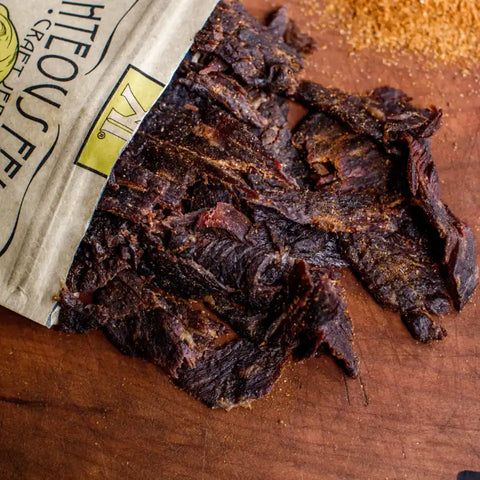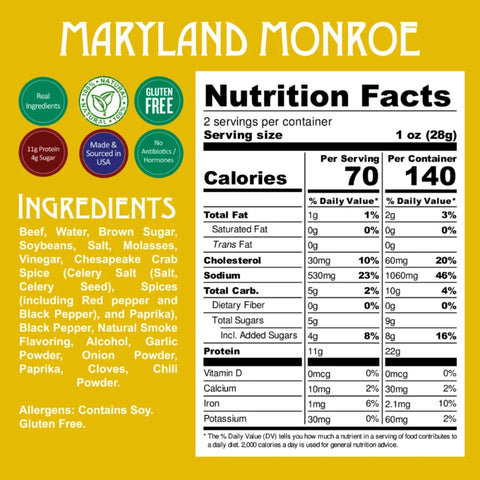 Righteous Felon
Righteous Felon Maryland Monroe Crab Spice Beef Jerky, 2-oz
Righteous Felon's newest addition is loaded with hickory smoke and a touch of Old Bay styled Chesapeake crab spice for a delicious jerky in crab cake mode.
Nutritional information
Ingredients: Beef, water, brown sugar, soybeans, salt, molasses, vinegar, chesapeake crab spice (celery salt (salt, celery seed), spices (including red pepper and black pepper), and paprika), black pepper, natural smoke flavoring, alcohol, garlic powder, onion powder, paprika, cloves, chili powder.
Contains: Soy
Package size: 2.0-oz
What you'd expect and good because of it.
Its pretty good. I kinda wondered if the mix wouldn't work, but it does.
Hey Sean! Thanks for reviewing Righteous Felon Maryland Monroe Beef Jerky. We agree the jerky is nicely seasoned and has a delicious Chesapeake flavor. Looking forward to you ordering from us again. Your feedback is very much appreciated. Happy chewing! - JerkyGent Team