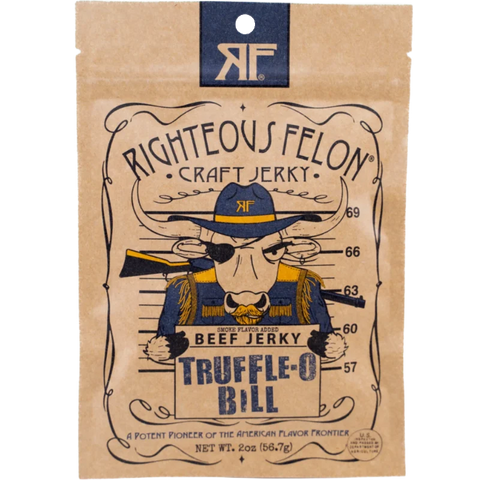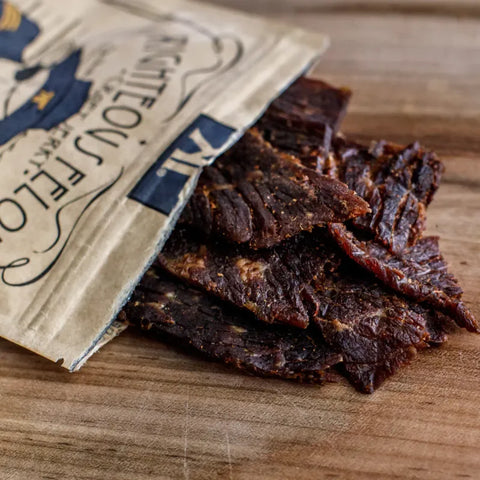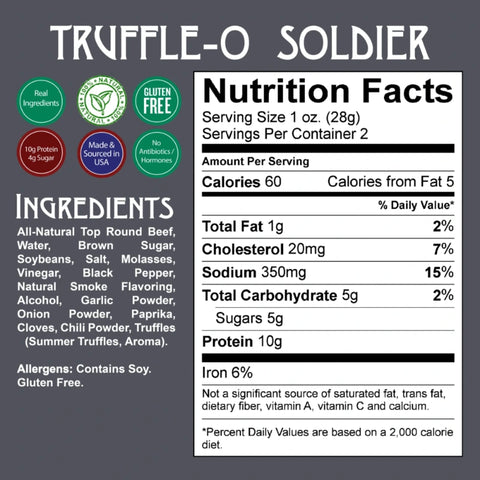 Righteous Felon
Righteous Felon Truffle-O Soldier Beef Jerky, 2-oz
The first and only black truffle infused jerky in American history. Righteous Felon sources real black truffles from Italy and adds them to their O.G. hickory marinade that results in smoky, savory delicacy. A true one-of-a-kind that every craft jerky connoisseur must try!
Nutritional information
Ingredients: Beef, water, brown sugar, soybeans, salt, molasses, vinegar, black pepper, natural smoke flavoring, alcohol, garlic powder, onion powder, paprika, cloves, chili powder, truffles (summer truffles, aroma).
Contains: Soy
Package size: 2.0-oz
Great truffle flavor!
I love trying truffle-flavored products, but often times the balance is off or the truffle flavor has a fake taste to it. This jerky, on the other hand, is freaking PHENOMENAL. Starts with great beef jerky, and then the flavor profile is kicked up an umami-notch with the addition of a really good truffle flavor. I tried one and immediately bought 10 more bags, so save yourself from having to wait and just buy a ton on your first order!
Good, not great.
It was okay. I expected the jerky to be more tender because it was reaaallly tough. And, in my personal opinion, it was a little sweet. Won't buy again but it was fun.
Smokin 🔥!
Delicious!! I am a beef jerky fan from way back when.. A friend brought me a couple bags of California Reaper... Great as a garnish for bloody Mary! But I cant seem to find it anywhere...
Not my favorite 🥺
The jerky meat was soft and high quality, but I did. It like the truffle flavor. Maybe I just don't like truffles. JerkyGent has A LOT of jerky to choose from, so I will continue to buy high quality jerky from JerkyGent. I will just buy a different flavor.
Great!
Let me just say, the truffle flavor was amazing! The only downside was I think some of the delicate flavor flavor of the truffle was lost a little on jerky, which already has a strong flavor.