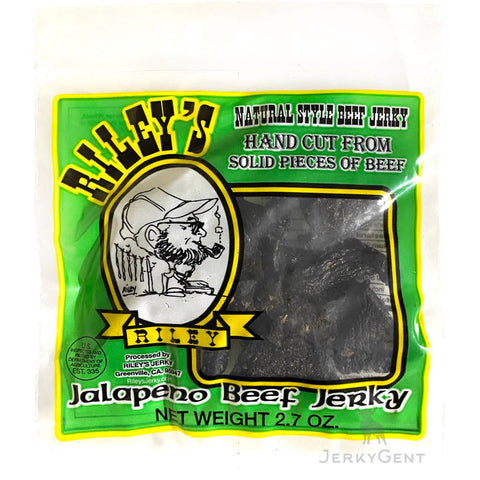 Riley's Beef Jerky
Riley's Natural Style Beef Jerky, Jalapeno Beef Jerky, 2.5-oz
A delicious jalapeno flavor that's hand cut from solid pieces of beef. A thick, homemade style that can be surprisingly tough, but extremely delicious! Let this jerky rehydrate in your mouth and it chews just like a real steak. Handmade in Northern California since 1980 and delivers a superior texture and taste.
Nutritional information
Ingredients: Beef, soy sauce, jalapeno peppers (jalapeno peppers, water, carrots, cottonseed oil, salt, vinegar, onions, garlic, bay leaves, oregano), water, garlic salt.
Package size: 2.5-oz
Classic, Delicious
The flavor of this jerky is classic. It's very dry and hard like jerky should be. It lasts much longer than other jerky that chews just like a steak.
Yummy
Great jerky, dry the way I like it, also not slippery, and slimy, Or over soaked in soy sauce! To each his own! Just a tad hot to taste, perfect!
A little tough
Was not a tender jerky. Very flavorful, just a little too hard to chew for my liking.